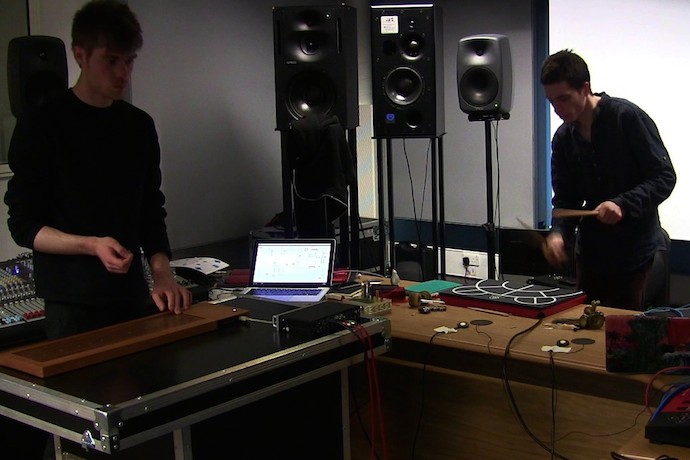 Anthony Burgess Foundation, Manchester
By Michael Perrett
This evening traversed varied terrain. From the secretive, pastoral rustlings of Cage's Branches to the manic live electronica-cum-performance art of Arma Agharta's unforgettable solo set, it was quite the journey.
It began with an elusive new piece from composer/producer MICHAELBRAILEY. Emulation Chain for two electric guitars, banjo, and live visuals clearly has some kind of thread running through it though perhaps not a conventionally narrative one. The guitarist responded to the visual cues but quite what the rules of the game were remained a mystery. Some of the sounds were very beautiful (the sound of two bowed electric guitars being detuned like some kind of liquefying sculpture) but overall the piece wasn't entirely satisfying, the byzantine construction adding up to less than the sum of the parts and cluttering the trajectory. Nevertheless, it made a pleasingly peculiar memory.
A set from electronic composer/performers Seth Scott and Guillaume Dujat was more orthodox. Their music was by turns elegiac, fraught, poised and virtuosic although it was unfortunate that the balance wasn't quite right and the spoken word in the second piece couldn't be heard.  Another electronic performance duo, Kinder Meccano (a collaboration between Michael Cutting and Vitalija Glovackytė) had a lighter, more obviously pop-influenced touch although they seasoned their music with grittier material to counterbalance the whimsy.
The performance of Cage's Branches was disappointing. For amplified plant materials, the piece should unfold as pearls of sound along a string of silence but here it felt blurred and diffuse. The materials selected for the performance were not the most aurally beguiling (this selection is made by consulting the I Ching so naturally there is a degree of chance—a case of asking the wrong questions, though?) and the visuals, on four laptops in front of the performers, were superfluous and distracting.
And then Arma Agharta, resplendent in robe and headdress, produced a toy alien. Shortly afterwards a puppet dinosaur attacked said alien. All this to a churning, tumultuous soundtrack on Soviet era electronics. Agharta describes his performances as existing somewhere 'between musique concrete and DIY shamanism' replete with 'eruptions of chaotic noise and hypnotic psychedelic ritual […], dadaist humor, odd bodily movements, spontaneous improvised games'.  I'm not capable of improving on that description. All I can say is that it was visceral, funny, bewildering and utterly compelling.