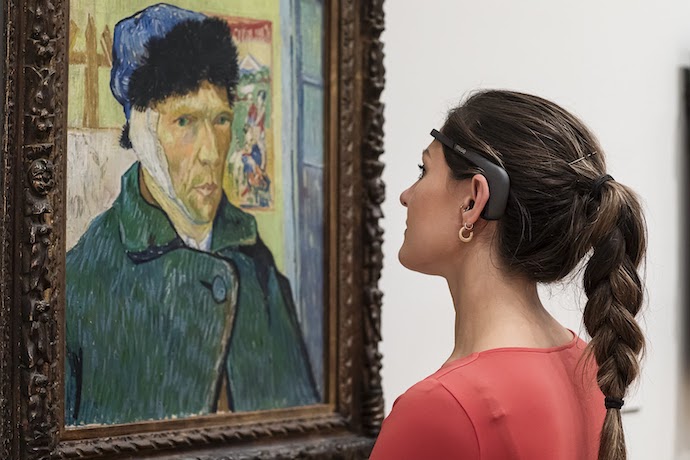 The impact of art on human brainwaves has been visualised in real-time and in 3D for the public, for the first time. The world-first project from Art Fund, the national charity for art, shows how people's brains are stimulated when they experience art and aims to help answer the question of the fundamental value of art, and launched at London's Courtauld Gallery last week.
The technology was trialled by members of the public for the first time last week at London's Courtauld Gallery [pictured]. Those taking part viewed artworks including by Vincent Van Gogh, Èdouard Manet, Claude Monet and Paul Cézanne while connected to an electroencephalogram (EEG) monitor. The outputs of the brainwaves were visualised on-screen in 3D and real-time. The technology is set to tour select museums across the UK in 2024.
The project was commissioned by Art Fund to illustrate the impact art can have on people's brains and emotions, which in turn the charity hopes will help encourage museum and gallery visiting. New research commissioned to accompany the project found that whilst 95% of UK adults agree that visiting museums and galleries is beneficial, four in ten (40%) visit less than once a year and around one in six Brits (16%) believe that art has no impact on them.
However, the technology on show at the Courtauld Gallerydemonstrates both the clear and immediate impact art can have on the human brain, and how varied artworks may impact differently. For example, Van Gogh's Self Portrait with a Bandaged Ear (1882) creates a clearly different pattern of brainwaves to Leon Kossoff's Shell Building Site (1962) and Matthew Arnold Bracy Smith's Lilies in a Jar (1914)
This is reflected in the cognisant emotions of those consuming the art – when surveyed the UK public said they felt 'curious' (34%) and 'intrigued' (33%) when viewing the Van Gogh; 'confused' (38%) and 'curious' (20%) were the primary reactions when viewing Kossoff's piece; and the floral display left 27% of respondents feeling 'relaxed'.
In this interview, Hannah Nepilova interviews Will MacNeil, creative director of The Mill, which was the technology company involved in the project.