The late celebrated British neurologist Oliver Sacks came up with the theory that the spiritual visions of Hildegarde von Bingen – 12th century abbess and composer –  were a result of migraines. Elsewhere, the ecotheologian Mary Dejong has suggested that there is good reason to think that Hildegard may have also encountered hallucinogens.
Now Voice Trio, a UK-based vocal group, is creating a new multimedia project connecting the music of Hildegarde von Bingen with the idea of trance. In this blog, they talk about the genesis of the project. 
 We were first exposed to the extraordinary hypnotic music of Hildegard of Bingen – 12th Century Benedictine abbess, mystic and composer – as teenagers. Our first reaction to the music was that it was ethereal and wafty, and a great vocal stretch over a huge range. We were singing in the Oxford Girls' Choir and were fortunate enough to work with historian, composer, and musician Stevie Wishart and her group Sinfonye. Wishart wanted to combine both young and more mature women's voices singing together to recreate the trance-like sound of the nunnery. We drank tea together, droned, sang modes, and learned how to understand and live and breathe the music of Hildegard. It was tricky to get the hang of the ornamentation which was completely different to anything we'd sung before. Now it's second nature. 
 Her music has played a central part in many of our programmes since then. The keen listening involved in unison blending that we learned by singing through the modes she used, matching vowels across the whole group of singers, and the attention to tuning that is so integral to making the music shine are all skills that we apply to this day to all music that comes our way. This supportive and attentive environment really helped us to flourish as singers, and since we formed Voice 17 years ago, it feels as though not only do we continue to find joy in the musical embellishment of words (melisma) that is so prevalent in Hildegard's work, but we have come to understand this remarkable woman in flesh and blood. She was feisty, she established her own abbey and though she referred to herself as a 'little woman', she was emboldened by God to fight for her beliefs, not hesitating to write letters of disapproval to Pope Benedict XVI. 
It was the neurologist Oliver Sacks who came up with the theory that perhaps Hildegard of Bingen's famous visions were a result of her migraines. More intriguingly, ecotheologian Mary Dejong expounded that there is good reason to think that Hildegard may have also encountered hallucinogens, which along with her migraines, contributed to her visions. 
With our show Hildegard Transfigured, we wanted to offer some of these new perspectives to our audiences, not only of her religious music but also her as a woman – visionary, mystic, writer, herbalist, respected leader, humble devotee, and friend. 
In 2019, Brighton Early Music Festival director, Deborah Roberts, introduced us to Innerstrings, who specialises in music video, liquid light art, and live visuals. You might think that they make a strange pairing with Hildegard. However, if you dig deeper into Hildegard's extraordinary visions and texts, you soon realise there is a strong connection; Hildegard was passionate about Viriditas – greenness – and her connection to nature through her music and her herbal remedies. In our programme you hear two clear examples of this, Favus Distillians – a dripping honeycomb: 'Milk and honey under her tongue, an orchard of fruit trees and blossoming flowers among the crowd of virgins gathered all around her.'; and Azerus – hemp, a piece written by Stevie Wishart using Hildegard's own made-up language which she called the lingua ignota and used mostly in conjunction with the herbs and spices she used in her remedies.
 We want the audience to feel as if they are experiencing these visions for themselves. As Innerstrings explains: 'It has been very exciting to step out of the live rock and electronic music circuit to do something quite daring for a classical/early music concert…The visuals change with each of the pieces in the show, moving through different textures and hues, some comforting and warm, others hypnotic, curious, or even jarring.' 
Over the years we have sung a lot of Hildegard's original music and commissioned new pieces setting her religious texts, but for this project we wanted to go further. In 2020 we approached composer and musician Laura Moody, who has a background in writing music for theatre. We asked her to focus on text from Hildegard's letters which reveal more about her as a woman of her time.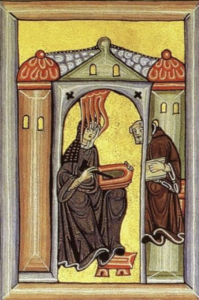 Laura was really excited by the commission, as she explains: 'It is some kind of miracle to have the kind of access to a female creator of the twelfth century that we have with Hildegard, her output only having been permissible during her lifetime because of her sacred status. As a fellow migraineur, I have tried to capture some of that relentlessness and pressure in this virtuosic and rhythmic depiction of her experiences of transcendence.' 
Moody's music forms the backbone of our Hildegard Transfigured show and her miniatures appear throughout. The show culminates in the finale, The Living Light, in which Innerstrings uses audio technology to make the visuals 'pulse', reacting directly to the live music. The effect is stark, intense, and gripping. 
This show is not for the faint-hearted. Expect to experience the fullness of Hildegard's life from the smooth sounds of ecclesiastical reverence and splendour to burning love, tyrannical rants and mind-splitting migraine! 

Voice Trio performs in the Oxford International Song Festival on October 19 at The University Church of St Mary the Virgin and at the Royal Welsh College of Music and Drama, Cardiff, on November  9. They released their album, Hildegard Portraits, in 2022 with SOMM Recordings.