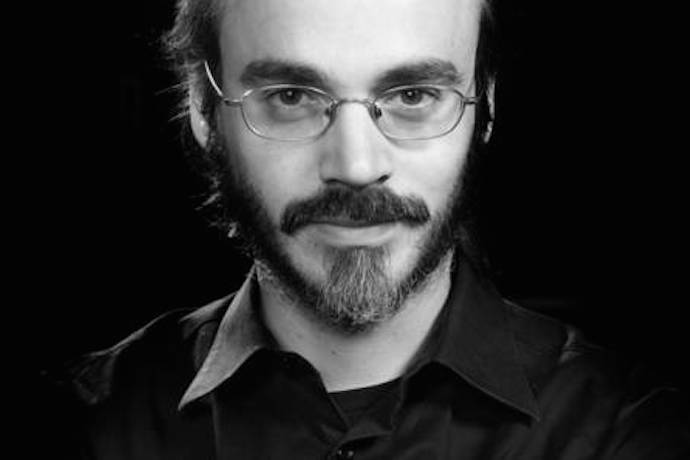 By Miranda Heggie
Now in its 5th year, Tectonics plans to celebrate its 19th Festival. Yup, that's right. Although 6th to 7th May will be the 5th Tectonics in Glasgow, it is the 19th overall, the festival having sprung up in a range of cities around the globe. The brainchild of conductor Ilan Volkov, Tectonics started life in Reykjavik, and has since emerged not only in Glasgow, but in Adelaide, New York, Oslo and Tel Aviv. This summer Athens will host its first ever Tectonics, and Tokyo too is being scoped out as a potential addition to the family. Born from Volkov's desire to create 'a platform that would present music, present concerts in a way that you don't have one genre,' the festival celebrates unlikely collaborations and embraces the experimental in quite a unique way. 2017's Tectonics Glasgow will play host to a huge array of musicians, including saxophonist Roscoe Mitchell, former Turner Prize nominee Luke Fowler, Nirvana's 'cellist Lori Watson and Triangulum, a new vocal trio comprising Catherine Lamb, Laura Steenberge and Julia Holter.
It's site specific; what works in which venue becomes very much connected to each festival
In Glasgow, which Volkov now considers 'the main Tectonics city', the festival has one of the country's finest orchestras as its backbone, the BBC Scottish Symphony Orchestra, which Volkov has conducted in various capacities since 1998. 'The orchestra has always been really behind this project', Volkov tells me. 'The work is really hard – sometimes ten pieces in a week! And it's often things they wouldn't normally do. It's going into a new territory where there's very little notation and it's improvised, natural material.' This year will see the orchestra team up with New York percussion and piano quartet Yarn/Wire for an improvisational concert with Australian jazz trio The Necks, as well as playing new music by composers Shiori Usui and Eddie Prévostt. Volkov speaks often of the 'trust' between him and the orchestra, without which this sort of risk-taking environment couldn't flourish. 'Ilan is amazing at getting that trust with the orchestra', says Alasdair Campbell, who co curates Tectonics Glasgow with Volkov. 'It's difficult for an orchestra to suddenly play some of the improvisational elements of this new music, but over the past five years they've become renowned for it in Britain. The chance to get to know the workings of an orchestra has been amazing for me personally, but also for some of the artists that we've worked with. We've commissioned young, non orchestral composers to work with the orchestra and that's been a really exciting development.'
This cross-pollination of musical ideas has led to an intermixture within audiences too. Campbell, who is also director of the more underground new music festival Counterflows, tells me that 'A lot of the Counterflows audience come in to see Tectonics because of the engagement locally, and I suppose that's my role, to work between the BBC and the community. Merging these two audiences, bringing them together is exciting in all sorts of ways'. The cultural identity and buzz of a city is always something that's going to be distinct, and surely that's a factor which would affect Tectonics as it roams over the world, although as it turns out, more tangible, practical elements have a lot of impact too. 'The scale of all these festivals is different', says Campbell. 'In Adelaide, it's very similar to Glasgow in some ways because we work with the Adelaide orchestra, but in other places like New York and Norway there's no orchestra so it's a bit of a different thing.' What's possible in what city is largely determined by the venues, according to Volkov: 'It's site specific; what works in which venue becomes very much connected [to each festival]. The local scene is very different in each city, but the amazing thing about music is that it's international – you can make connections wherever you are.'
Volkov's unyielding passion for live music is evident, and he cites experimental singer and composer Jessika Kenney's 'unbelievable' performance in Adelaide last year, with electronics and solo voice as a memorable example. 'You can't listen to that on a recording, it's not possible. It's an acoustic phenomenon. Of course, hearing something live can be a total disaster too, with annoying lights, smelly people…. But to be open enough to receive the material, from delicate to loud physicality – the only way to experience that is to be in the same room as the musician. That's why I do what I do'.