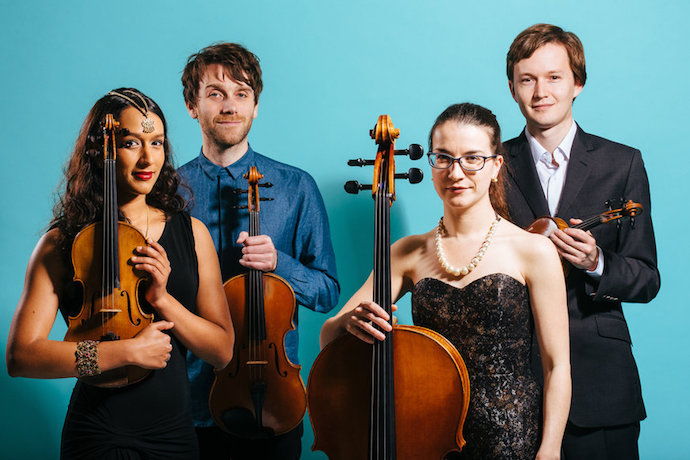 Steiner Hall, London
By Bruno Bower
The Ligeti Quartet titled their programme 'Morphs and Magpies', describing the five works as borrowing or transforming material. However a deeper link might be compression, with most of them shoving lots of material into comparatively short frames. They began with Ligeti's String Quartet No 1, setting the tone with its 17 short 'variations' spanning only 20 minutes. John Zorn's Cat O'Nine Tails then upped the ante at the start of the second half, with 50 fragments appearing in an even shorter time. Aurally and emotionally this was like listening to someone constantly retuning a radio, including the static. The rapid shifting and distorting is fun; the children (yes, really!) in the audience were visibly delighted by it. But after a while you wished that Zorn had stayed on the more interesting channels a little longer.
Sivunittinni by Tanya Tagaq, a Canadian Inuit singer and composer, took things in a different direction, also displaying Jacob Garchik's transcription skill, using extended bowing techniques to recreate the groaning and creaking sounds of Inuit throat singing. This was the high point of the programme, with the narrow sonic palette inventively used to generate a wide range of moods and a compelling depth of intensity. By the end of the concert, Alfred Schnittke's String Quartet No 3 felt spacious, but it still got a lot of moods out of three quotations from Lassus, Beethoven and Shostakovich in a short space of time.
The odd-one-out was Gregers Brinch's String Quartet No 1, receiving its first live performance. Brinch was aiming for a straightforward classical sound, warm and pleasant, but in this programme it felt bland, with no especially distinctive material or compelling treatment of it. It shows the dangers of giving premiere performances for the sake of it: this piece might be recent, but sonically it belongs in a traditional quartet programme.
The Ligetis performed every work with an impressive commitment to the extremities of technique, all broken bow-hairs and ferociously snapped pizzicatos. Occasionally perfection got in the way of expression, though. The searing climaxes in the Schnittke, and some of the sillier moments in the Ligeti and Zorn, didn't quite ring true. The leader, de Saram, momentarily let slip a grimace at the gritty sound she was expertly producing in the Tagaq when she could have been revelling in it instead. The sacrifice of a little precision for the sake of greater emotional freedom would have been welcome.