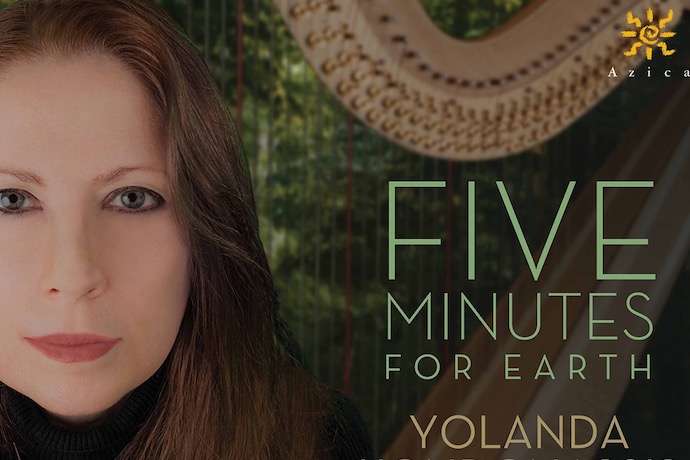 By Rosie Olver
Composer, author and harpist Yolanda Kondonassis has collaborated with fifteen composers to create her newest album Five Minutes for Earth. The album is an expansion on the artists' existing FIVE MINUTES project, which encourages composers to write short experimental works for harp. As well as being an advocate for contemporary composition, Kondonassis is also a champion for environmental change. This album combines the player's two passions as she presents a selection of innovative works, celebrating the diversity and beauty of nature.
In the opening track Koholā Sings, composer Takuma Itoh conjures up images of a mighty humpback whale. The meditative opening draws you in to a peaceful yet somehow distant world, highlighting the mystery of these impossibly giant creatures. The use of resonant pizzicato creates sonic-like vibrations, and the sense of pulse remains fluid and improvisational throughout. These elements transport the listener deep underwater, while the bending of pitches hints at the mammal's infamous whale song.
Itoh is not the only composer to focus on the animal kingdom. Aaron Jay Kernis' work, On Hearing Nightbirds at Dusk, is inspired by birdsong. However the majority of composers have decided to find their inspiration from iconic landscapes, with three of the fifteen focusing on arctic glaciers—a location that has become synonymous with the climate crisis. Reena Esmail's piece, Inconvenient Wounds, depicts a crack forming in the ice. The use of piercing high pitches mirrors the fragility of the glacier's surface, while the contrasting deeper timbres represent the ice rupturing below.
Jocelyn Chambers similarly depicts the erosion of glaciers in Melting Point, however the folk like lyricism seems to give the work a more human perspective. The mournful melodies reflect our human regret towards the destruction of this magnificent location. Despite working to the same brief, each composer has chosen entirely individual ways to present their Five Minutes for Earth. This diversity allows the listener to travel through sea, air and across a range of landscapes from treacherous mountain terrain to Argentinian pampas lowlands. It is a truly remarkable collection of works that both highlights the damage being caused by human actions, and celebrates the awe-inspiring beauty of our natural world.