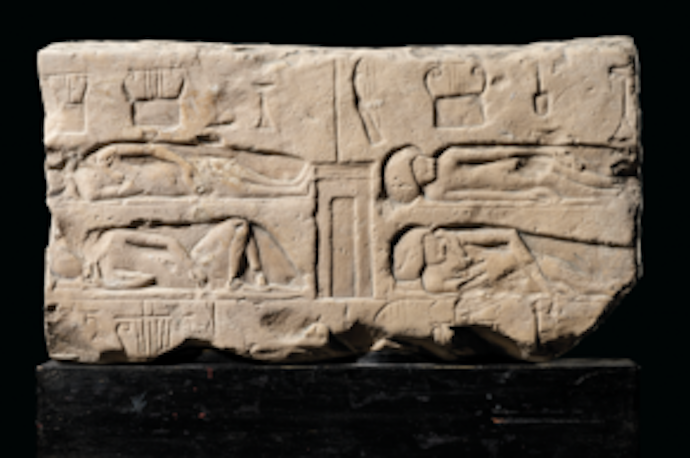 A limestone relief offering a glimpse into daily Egyptian life more than 3,300 years ago is at risk of leaving the UK if a domestic buyer cannot be found.
The artwork depicts a group of female musicians asleep in the palace of the ancient Egyptian pharaoh Akhenaten. It was created at some point during his 17-year reign from 1351 to 1334 BC and is very unusual for its time in depicting women as musicians and making them the focus of attention.
It is one of very few reliefs from this period that have survived in such a large fragment.
Arts and Heritage Minister Lord Parkinson of Whitley Bay said: 'This limestone relief offers a beguiling glimpse into daily life in the Amarna Period of Ancient Egypt and is hugely valuable to academics researching this fascinating period of history.  I hope a UK buyer can come forward so this important artefact can be enjoyed and studied here by future generations, for the benefit of people all over the world.'
Watch: trombonist and professor John Kenny's whistlestop tour of  ancient Celtic instruments
Pippa Shirley, who sits on the Reviewing Committee on the Export of Works of Art and Objects of Cultural Interest, said: 'This ancient object speaks to us with extraordinary clarity across thousands of years. It shows an instantly recognizable subject – a group of women asleep. They are musicians, and we see them in wholly natural, individual poses, lying on mats with sheets drawn up around them, with their instruments (harps, lutes and box lyres) close at hand, and a brazier in each room to keep them warm. They are part of the entourage of the fabled pharaoh, Akhenaten and his equally famous queen, Nefertiti, and are depicted with great care by the sculptor in their palace quarters. Glimpses of the private lives of servants from this period are immensely rare, and this one, in the revolutionary style developed by Akhenaten for the palaces and temples at his new capital city, Amarna, is unparalleled. The King and Queen oversaw the design and execution of the decorative schemes, and encouraged not only greater artistic freedom and naturalistic composition, but a growing interest in reflecting the lives of ordinary people. Although only a fragment, the light the relief casts on aspects of art, culture and daily life during the reign of one of the most intriguing rulers of Ancient Egypt means that every effort should be made to keep it in this country.'
The decision on the export licence application for the relief will be deferred for a period ending on 22 April 2023.