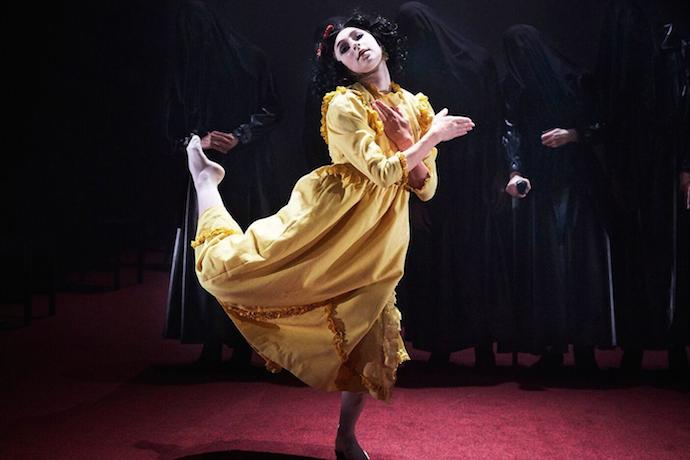 The Place, London
By Sam Pryce
Perhaps best known for his award-winning dance-theatre adaptation of Franz Kafka's The Metamorphosis, Portuguese choreographer Arthur Pita has been compared to the likes of David Lynch for his macabre and bizarre preoccupations. His latest creation Stepmother / Stepfather, devised in collaboration with Headspacedance, dragged us kicking-and-screaming into a delectably sinister world of parental sadism and bloodshed.
Stepmother drew attention to the vicious stepmothers of classic fairytales – from Snow White to Cinderella to Rapunzel. Veering between surreal cabaret and gory horror, their coldblooded abuse was set, rather ironically, to the rich and soulful cadences of Fauré's Requiem.
Though much of Stepmother revelled in cartoonish lunacy, some moments drew out the grim beauty of the violence and cruelty inherent in these fairytales. Blood flourished elegantly from the wounds of The Ingénue (Corey Claire Annand) in red ribbons, quickly gobbled up by her flesh-eating siblings. At other points, however, the gloriously camp aspects of the stories were accentuated, particularly when we saw the Big Bad Wolf (Nathan Goodman) clawing at Little Red Riding Hood with outrageously long, gold-glitter nails.
There is a thrilling sense of mischief and playfulness throughout, aptly matching the childlike spirit of the material. But there is also a more serious consideration of the 'evil stepmother' myth – its absurd misogyny as well as its psychological mystery.
In the companion piece Stepfather, Pita took inspiration from 'Country Death Song' by American punk-folk band Violent Femmes, telling the real-life story of a man (Eugene) who murdered his stepdaughter after hurling her down a well.
Despite its manic narrative of redneck malice, incest and murder, Stepfather was embellished with many elements of jet-black comedy – the often bawdy choreography, the brilliantly sleazy stage presence of Karl Fagerlund Brekke as Eugene and, of course, the high-octane cheerleader rendering of the song 'Dance Motherfucker Dance'.
In its stunning final sequence, we saw Eugene, having committed suicide, dancing with his drowned daughter (Clemmie Sveaas), herself dripping wet, as he hung by his neck. Disturbing and morbid yet undeniably beautiful, the piece concluded with the fading silhouette of stepfather and daughter embraced and twirling on a ragged noose.
These two pieces further cement Pita's reputation as a unique and compelling visionary in contemporary dance, but they also demonstrate Headspacedance's skill and sheer fearlessness.