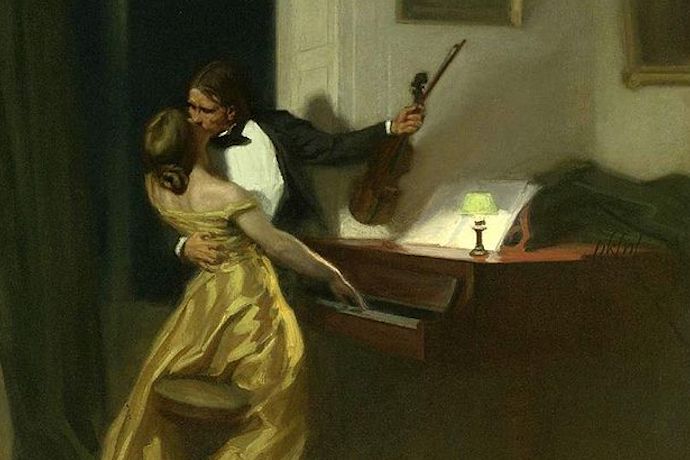 1.Leoš Janáček's The Kreutzer Sonata
This string quartet was inspired by the 1889 novella of the same name by Leo Tolstoy, which the Czech composer Janáček owned in Russian edition. The novella, about a husband stabbing his adulterous wife, had first inspired the composer in 1908, when he completed a piano trio based on the subject. For his quartet, which he wrote in 1923, he drew on material from the trio, as well as quotes from Beethoven's 'Kreutzer Sonata' (which gives the novella its name), to summon up the dark mood of Tolstoy's story, contrasting violent motifs with intense lyricism.
2. Einojuhani Rautavaara's On the Last Frontier
This 1997 choral fantasy by the Finnish composer Einojuhani Rautavaara is based on the final two paragraphs of Edgar Allan Poe's novel, The Narrative of Arthur Gordon Pym of Nantucket, about a young boy who stows away aboard a whaling ship called the Grampus. Rautavaara called the story 'a seafaring yarn in the typical boys' reading mould' and responded, fittingly, with a piece full of drama, mystery and majesty, that plumbs the maritime depths.
Read: 5 pieces of classical music inspired by paintings
Read: 5 pieces of classical music inspired by architecture
3. Giuseppe Verdi's La Traviata
In January 1847 a young woman died of consumption on the Boulevard de la Madeleine in Paris. Her name was Marie Duplessis and she had been the lover of the French writer Alexandre Dumas for eleven months. It was about her that Dumas wrote his 1848 novel The Lady of the Camellias, which he then turned into a play. But it is largely thanks to the Italian composer Giuseppe Verdi, who read the novel and turned it into his 1853 operatic masterpiece La Traviata (renaming the heroine as Violetta), that her story remains so famous all over the world.
4. Lorin Maazel's 1984
Based on George Orwell's dystopian novel of the same name, 1984 was the first opera composed by Maazel, following a conducting career that spanned more than 50 years. 'I'd never thought of writing an opera, and it took years to convince me,' he stated in an interview prior to the production's Royal Opera House premiere – a large part of which he funded himself. The reviews, overall, were scathing.
Read: 5 perfumes inspired by music
Read: 10 pieces of classical music inspired by water
5. Tobias Picker's Fantastic Mr Fox
Inspired by Roald Dahl's 1970 children's book about a clever fox who outsmarts three mean-spirited farmers to provide for his family, Tobias Picker's opera premiered in Los Angeles in 1998. It's an unusual score, full of off-beat rhythms, with a whiff of Stravinskian neo-classicism.