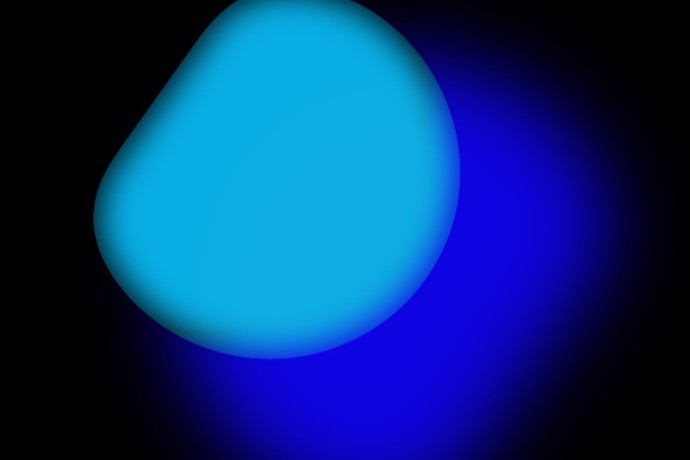 By Peter Page
Barbican Centre, London
Electronic music duo Rob Brown and Sean Booth, better known as Autechre, rocked the Barbican in a two-part soirée with support from the cult 80s experimental industrial group Zoviet France, displaying their decades of experience in analog sample and tapework. In total darkness, the show pulled the reins of the Barbican Hall near-limit with soundproof cladding fluttering loose against the walls.
The set opened with birdsong from Zoviet France, bending rhythmically down in pitch into a click before the reel looped back. These natural sounds, distorted and layered with atmospheric synth and pipe instruments, were reminiscent of a forest full of alien wildlife, with calls bent out of recognition. A real-time projection of a tree line presided over the set for the 30 minute runtime, illuminating the mysterious group while they played noisy, windy synths building to a subtle crescendo. Their performance created space for reflection and immersion.
Autechre, meanwhile, navigated a three-dimensional sonic space with the opportunism and improvisation of cellular life growing in a bed of still water. Having discussed and collected reports from the show, I understand Autechre's two evening performances progressed in vastly different directions. Their improvisation had something of the same palpable excitement of a live jazz performance, where the lead swings daringly on a musical trapeze.
However, Autechre's improvisation is entirely distinct from traditions of Jazz. Unlike Jazz, which is based on notation and scales, this show was completely discordant in all senses except in the  layering of sound on a beat, which itself was molten and constantly changing. Bass loops were constructed, deconstructed and tossed away in a sluggish journey atop which trees of distorted snares swayed. Hits and kicks were redacted and later returned, as the pair toyed with habit and expectation.
Sounds were dissonant and organic, forming a tapestry of techno, electronic and hip-hop music. The masterful command of sonic engineering was mind-bending. Familiar grooves were reflected in vivid fun house mirrors that dazzled as they distorted. The fidelity of sound, particularly in the 9000-12000KHz range, was impressive, although it was frustratingly dulled in certain corners of the hall, initially designed for conferences, not concerts.
In the belly of the performance, it was difficult to comprehend why my head rocked, my feet tapped, or why my fingers snapped at the echo of a change of pace. But as it came to a close the lucidity of the performance was evident. Not deconstructed club music, nor a pastiche of club culture, Autechre brought a depth of organic life to synthetic sound. Do not let your curiosity for the duo die over a pair of tinny laptop speakers. Grab an opportunity to see them live, or enjoy their releases on a sound system with breadth – few groups are more rewarding for listeners inclined to synaesthesia.