By James Imam
Right back to the Baroque era, technology has been key to opera's success. Stage designer Giacomo Torelli was the 'grande stregone' (great magician) of the 17th century. His toolbox of tricks included canvas-based wave machines, winch-operated set changes, candles with swivelling mirrors and ceiling tracks for the most improbable acts of god. Many of Torelli's machines du théâtre are recorded in Diderot's Encyclopédie. His innovations made opera, as the English traveller John Evelyn put it, 'one of the most magnificent and expensive diversions the wit of man can invent.'
Technology continues to be an essential operatic ingredient today, with big-money establishments leading the way with video projection and live-transmission technology. But a younger generation of small-scale, high-ambition opera groups are proving the most consistently inventive, finding ways to incorporate the kinds of technologies we all own into the operatic experience.
First among them is Silent Opera, the company created by artistic director Daisy Evans in 2011. Evans knew things had to change, she explains (appropriately) during our Skype-enabled conversation, when she was left cold by one particularly anaemic production of Puccini's blood-curdling tale Madama Butterfly. She set about creating a new operatic form that would pack a punch as powerful as that of Schoenberg, Stravinsky or The Ballets Russes as they set the world alight at the turn of the century.
The dead are contacted via Facebook chat, and the graveyard scene has Giovanni trolled with messages like 'you have ten minutes to live'.
The formula works by blending the boundary between audience and performer, and in this way there are unlikely similarities with Wagner 150 years ago, whose specially designed Bayreuth Festspielhaus featured a covered pit which hid performers and emanated, according to Wagner academic Patrick Carnegy, a 'spectral music, rising from the "mystic abyss"'.
Evans does not use technology merely as a means of creating spectacle. To do so would be a mistake when today's visual fix can be procured relatively cheaply at any cinema's 3D showing. Instead she uses technology for drawing audiences into new, enthralling worlds, as did Wagner before her. But, unlike Wagner, Evans has mobile apps and sound-bending technology at her disposal.
Using this technology, Silent Opera reworks operatic classics into a vernacular we understand. Its 2015 production of Giovanni, an adaptation of Mozart's Don Giovanni, stripped the cast to two and placed the focus on Giovanni's deteriorating psychological state. The dead are contacted via Facebook chat, and the graveyard scene has Giovanni trolled with messages like 'you have ten minutes to live'. In the urban setting of The Vaults in London Waterloo (Silent Opera does not go in for traditional venues), the audience was brought within touching distance of trained operatic singers.
What remained of the music was utterly transformed. Evans added pieces of spoken text, whilst sound designer Max Pappenheim and musical director Stephen Higgins sent Mozart's fragments through a mixing desk and back out again with added bleeps, ringtones and reverb. Silent Opera decide how to manipulate the score in an intensive week of research and design. The thrill of live singing remains intact.
Clearly, this was not the opera Mozart imagined. Inevitably, some are left disgruntled by such artistic liberties. Evans speaks of the so-called 'Opera Police', who turn up expecting something more traditional and soon leave in disgust. But in Silent Opera's quest to find new audiences, the figures speak for themselves. Seats are rarely left unfilled. Sixty percent of the audience is under 30. Fifty percent have never seen an opera before. Singers are delighted to work here, apparently won over by the fresh approach and high quality all round.
Orfeo at Trinity Buoy Wharf in 2013 was 'classic Silent Opera', says Evans. Participants were invited to wear wireless headphones as they followed Orfeo through three rooms on his journey to Hell and back. Take them off, and you had a standard baroque performance of the work (translated from the Italian by Evans herself). Put them on, and you were treated to a pre-recorded mix including characters' spoken thoughts. Hanging lights and screen projections served to evoke Hell. It is hard to deny the work's true essence had been maintained, if not bolstered.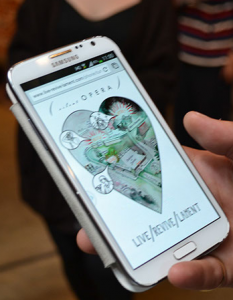 Projects have not been without their teething problems however. The trolling messages in Giovanni were supposed to be relayed to audience members via a specially designed app, before the production team realised that the underground venue didn't have a functioning Wi-Fi connection. There were similar problems with Matthew Herbert's Faustian The Crackle, produced by the Royal Opera House in the underground Linbury Studio, where connectivity problems made it impossible for many audience members to download the required sound-emitting app called Chirp.
Regardless, Evans' vision remains unclouded, and there is the sense of her merely scratching the surface of what's possible. She used speakers that vibrate window glass in her Carmen for the ROH's flashmob series Shopera. She is currently overseeing the development of bass-heavy planar speakers that will be able to transmit vibrations through the ground. Silent Opera is working with Sky on the development of an app that will produce the kinds of close-ups and highlights familiar to viewers of its sports coverage. The technology is intended for a setting of Ulysses, in which separate groups of audience members will track each other's movements until Penelope and Ulysses come together in what is intended to be an ecstatic climax.
Giacomo Torelli is a good analogy for this new kind of opera, yet also an imperfect one: whilst Torelli presided over a revolution, the likes of Silent Opera remain on the fringe. They are, however, winning an ever bigger stage. In 2017, Silent Opera will collaborate with ENO on a production of Bluebeard's Castle, and Evans' opera looks set to stay. Can it also help forge a new audience for its flagging, traditional sister form? Catch Silent Opera on its upcoming tour of La Bohème and decide for yourself.