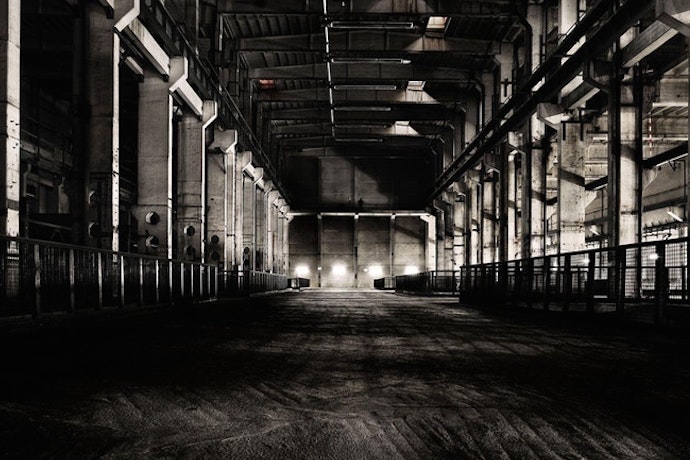 Kraftwerk, Berlin
The history of Berlin Atonal provides a vivid snapshot of the capital's progressive musical culture. Founded in 1982 as a big tent for experimental and electronic music, the festival hosted acts such as industrial band Einstürzende Neubauten. When it closed with fall of Berlin Wall in 1990, festival organiser Dimitri Hegemann moved on to become a key player in the city's burgeoning techno scene.
Resurrected in 2013, the rebooted festival plays host to a wide constellation of styles reaching beyond, but connected to, the styles it incubated in the 1980s. Now set in Kraftwerk Berlin, a massive former power plant, it is fond of ambitious projects; this year's festival opened with Karlheinz Stockhausen's Oktophonie, an eight-track tape composition taken from Dienstag of his seven-day opera cycle Licht.
The 69-minute piece is a cosmic cacophony of space-age synthesisers, ethereal vocal samples and resonant bass drones which are distributed to eight speakers that surround the audience. Projected here by Kathinka Pasveer, the gigantic sound system at Berlin Atonal created spine-tingling resonances, but didn't quite saturate the cavernous space and create the 'cube of sound' Stockhausen envisaged.
And now for something completely different – there are few things more quintessentially British than the BBC Radiophonic Workshop, a group of composers and engineers at the cutting edge of music technology employed by the BBC between 1958 and 1998 to provide sound effects for programmes including The Living Planet and The Hitchhiker's Guide to the Galaxy. The workshop's members, such as Daphne Oram and Delia Derbyshire, have since acquired cult status.
Having reformed in 2009, four surviving members of the group made their first German appearance at this year's festival. Equipped with kit from state-of-the-art synthesisers to retro Theremins, the group won over a slightly baffled crowd here to see young beatsmiths rather than silver-haired tinkerers, and gave impressive live renditions of classic works including the iconic theme music to Doctor Who.
Venture into the bowels of the power plant to Tresor for a taste of the classic Berlin sound. The club and associated label electrified techno in post-reunification Berlin and drew a connection with the Detroit scene. Moritz von Oswald, a mainstay of the club in the 90s, gave a special DJ set that delivered an addictive hit of dub techno peppered with cross-Atlantic influence. The pulsating crowd packed into the sweaty basement were a living, dancing monument to the pioneering spirit of Berlin.