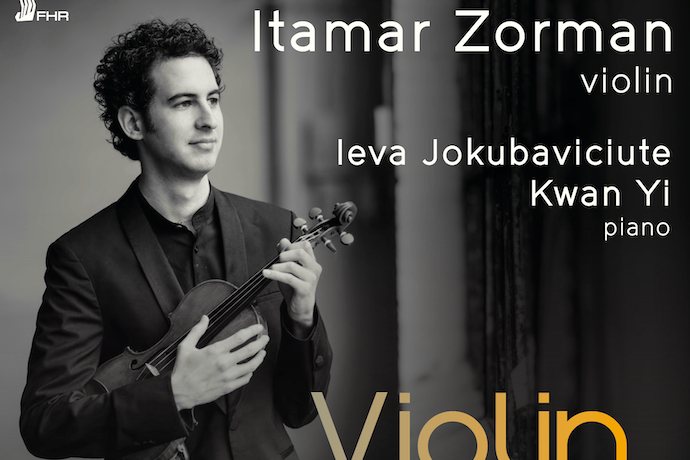 During the unsettling lockdowns of 2020 and 2021, violinist Itamar Zorman set off on a mission to discover some of the world's most exciting yet little-known works for violin and piano. This voyage of discovery took Zorman around the world, selecting pieces from the US, Croatia, Poland, Israel, Sudan, China, Mexico, Russia and the Czech Republic. Ten of these pieces have now been recorded for his new album Violin Odyssey—a striking collection which showcases Zorman's incredible virtuosity and variety of sound.
Despite selecting pieces from a range of locations, there are several common themes that thread the works together. Musical elements such as clashing dissonances, long tumbling phrases and powerful driving rhythms appear throughout. Many of the works included are also short in length, such as Joseph Achron's Children's Suite. Achron's suite was arranged by Jascha Heifetz in 1925, and each brief movement explores a different element of childhood. The third movement uses playful trills and glissandi to reflect the curiosity and imagination of children, while the marching chords and brash double stopping of the fourth movement evokes a sense of confidence and adventure.
Despite being drawn to mostly short, one movement pieces, Zorman does include two sonatas: one by Erwin Schulhoff, the other by Dora Pejačević. Pejačević's Sonata for Violin and Piano No.2 is a ferociously powerful and spectacularly demanding work written in 1917. In this Sonata Zorman's virtuosity dazzles as he flies through furiously fast passages, never once losing his commitment to the work's emotional intensity.
After an impassioned series of high energy recordings, the album closes with Summerland by William Grant Still. This work contrasts the majority of the album by showcasing a much gentler side to Zorman's sound. Summerland is reflective and calm, transporting the listener to a world with much more peace and clarity. You can not help but wonder if this closing piece is in fact a reflection of Zorman's hope for the future during what was an incredibly uncertain and turbulent time.