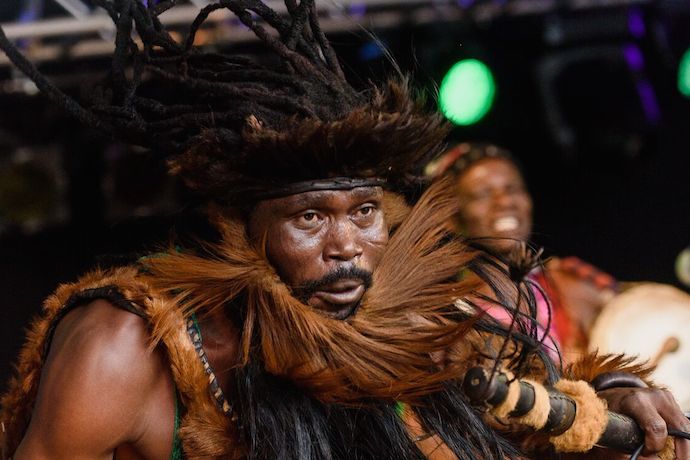 Charlton Park, Wiltshire
By Sarah Kirkup
Did you know that a riff on the uilleann pipes, overlaid with a techno beat and an African chant, can sound weirdly, authentically Celtic? Or that an alternative take on a traditional Welsh Male Voice Choir by a group of bearded, middle-aged Aussies singing about adaptors and hugging can be simultaneously hilarious and moving?
Until I arrived at WOMAD, neither did I. While the festival, now in its 35th year, is all about breaking down barriers – musically, culturally, socially – the resulting artistic endeavours are always worthy in their own right. What may look odd on paper sounds marvellous in the flesh, performed by hugely talented, bona fide musicians.
Take the Amsterdam Klezmer Band, a seven-piece ensemble who, 27 years ago, were scratching out a living as buskers. This year, in the Big Red Tent, they brought a mixed-age crowd to their feet with their relentless rhythmic groove punctuated by horns, clarinet and accordion, fronted by a gravelly-voiced vocalist singing in a mixture of Dutch and Hebrew. Earlier, gathered around the more tranquil Ecotricity Stage, we heard Syrian-born, London-based musician Maya Youssef demonstrate tremendous dexterity on the kanun, a traditional, 78-string zither, as she performed music from her homeland – but with the added twist of feet-tapping pizzicato from folk cellist Duotone.
With a choice of 10 stages, plus music and dance workshops, yoga classes, food- and wine-tasting, visual art, poetry, and debates and demonstrations, there simply aren't enough hours in the day to do everything. And then, for parents, there's the host of kids' activities to factor in, from learning an instrument and perfecting your circus skills to beatboxing and boomwhacking.
But it's the music that draws people in, year after year, and when it's performed by the calibre of these musicians, plucked from across the world – Sudan, Brazil, Mexico, Sweden, Japan, even Tanzania (this year's performance by the Tanzania Albinism Collective marked their first live performance not just outside Tanzania but anywhere) – it's hardly surprising.
I loved After Hours, a Leeds-based jazz band underpinned by pounding dance-beat vibes with added turntablist, who played to a packed Molly's Bar late on Friday night; and indie-mambo outfit Orkesta Mendoza's fusion of Cuban rhythms with electric guitars produced a sound that was addictive and utterly uplifting.
Yes, there were acts I missed – Eliza Carthy, Kate Simko and Ladysmith Black Mambazo, to name but a few. But I'll be forever grateful that I caught the Spooky Men's Chorale (aka those bearded Aussies) and, most importantly, the UK/Irish/Senegalese musicians comprising Afro Celt System. It was raining so hard, I could hardly see them. And the area surrounding the Radio 3 Charlie Gillett Stage was so rammed that I could hardly breathe. But none of this prevented me from whirling around in the mud like a crazy, plastic poncho-covered dervish to sounds strange and new, yet oddly familiar, created by these cross-continental musicians who surely symbolise what WOMAD is all about. 

A mini-WOMAD, free of charge, takes place at the South Bank outside the National Theatre on August 11-13; to hear a 2017 WOMAD podcast by Songlines, the festival's media partner, visit songlines.co.uk; for more information about next year's event, visit womad.co.uk