Thomas Guthrie, a UK-based director, singer, writer, composer and arranger, and founder/artistic director of Music and Theatre for All, is reimagining Schubert's song cycle Die schöne Müllerin with the Lewisham Creative Chorus for a new London venue, ahead of the release of Schubert's cycle on disc in November with the Barokksoloistene. In this blog he reveals the motivation and thinking behind the project, as well as the process of creating it.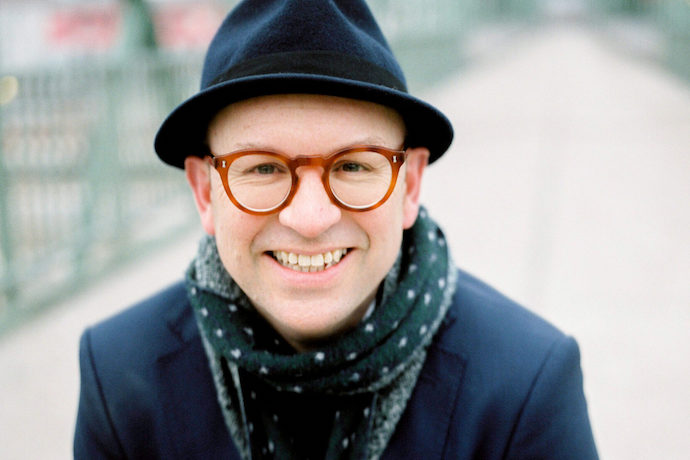 I arrive at the Fellowship pub in Bellingham. It's 10.15 on a damp Saturday morning, and it's cold for late March. I'm shivering. A few are gathered already. The cleaner lets us in, and we make our way through to the back room. 
 Steadily others arrive. There are warming hugs. We put out benches, hook up the keyboard. Mike, a former BT engineer, has had a tough week with his sinuses. Vicky has brought a small Djembe, Ray – purveyor of rare instruments – a kind of horizontal harp. Apu, small and radiant, is one of the last. Karen will be late. Coco, 11, and her family, follow Jill, her primary school's headmistress. 
 We are the Lewisham Creative Chorus, run by the charity Music and Theatre for All. We warm up – today Maria Ghoumrassi, a wonderful local choreographer, is here with us, which is a treat – and she gets us moving around the room. We remind ourselves of the physicality of singing, the extremity of it, the all-consumingness of it. We introduce ourselves – a ritual we have stuck to despite mostly knowing each other well – and share something personal as prompted by associate director, another Vicky. 'What are we going to bring to the performance next week?'. Words bounce around the space: joy, excitement, courage. 'The right notes', someone says nervously. We welcome a newcomer, who has come to see what's going on. We start to make noises, humming, stretching, resonating. 
 There are people of all ages in our group. From baby Iona, 11 yr old Coco, to one or two in their 80s (we lost our 96 yr old, Ryszard, last year). Some, like 79 yr old Apu, born in India and told as a child she couldn't sing, have never sung before (let alone opera), and are finding new life through doing so. We are proving the old adage that anyone can sing, and also that anyone can create their own music and stories. As for our younger participants, mixing with the older generation and finding warmth and a sense of togetherness in creativity brings hope and positivity where such things are perhaps in short supply. 
 The performance to which we hope to bring joy, excitement and courage (and hopefully some of the right notes) next week, is of a song cycle we have written together, called 'Stories We Tell Ourselves'. From exploring themes, through movement, drawing, discussion, questions, to trying out tunes and texts, and making and using puppets to help us build character, we have created a set of songs about who we are, where we live, what our fears and hopes are. And we are excited because our live-streamed concert is going to be introduced by Alexander Armstrong, and our performance will be the first at one of London's swankiest new concert halls – the World Heart Beat Academy – before coming back to home turf at the Fellowship Inn. We will perform with like-minded groups Vox Urbane, the Mind and Soul Choir, the Outcry Ensemble, and the wonderful jazz singer-songwriter, Gwyneth Herbert. 
 At these performances, alongside our deeply personal shared songs, I'll be singing songs from one of the first cycles ever written almost exactly 200 years ago – Schubert's Die schöne Müllerin – which inspired our backroom pub group in Bellingham. Those songs were also written for a community of friends and neighbours, not so different to ours, coming together to share space and time, sing, have fun, escape the world for a bit, or maybe find out more about it. 
 It's good to be reminded of that. Sharing songs and stories, helping create new ones, being, moving and singing together – these things are maybe more crucial to our mental and physical wellbeing than we think. In fact, science tells us they are. It doesn't matter what period of human history we're dealing with – it's what we've always done, around the fire, around the table, in pubs, in parlours, in living rooms, because it makes us feel better. Our lives nowadays, with their TV, phones, and now the all-encompassing AI revolution, can threaten that vital energy exchange. We need to keep creating these opportunities. 
 It's important not just for our wellbeing, I think, but for our sense of truth, of who we are, and what real quality is, in an age when those things are sometimes hard to grasp. That is what excites me most, and what approaching work like this has proven to me time and time again. Storytelling, music making – these are communal activities, and they rely on human connection. If it's not there, if it's not at the heart of what we do, true quality suffers. The professional classical music world can occasionally be at risk in this way, I think, and it's crucial we challenge it, and refresh it, not by dumbing down or with gimmicks, but by remembering what it is we're really doing. The way I sing Schubert songs – and arrange them for different players, in this case the excellent young musicians of the Outcry Ensemble – has much more to do with my relationship to the people gathered in the pub than it does to the 'classic' recordings of Fischer Dieskau. Not because I didn't grow up loving and listening to them (though Souzay and Wunderlich were always the ones for me) but because I felt they were written with and for friends, with a drink in the hand, at the end of the day, and that not much else really matters. 
 We finish the rehearsal. Outside the sun is shining, and I feel warmer, but there's more. I feel fulfilled, musically. That's not something that always happens in far more rarified surroundings. And this group that formed as we came out of lockdown in 2021 – we are sharing something that will last long after the final audience member leaves next week. We are sharing a sense of belonging. In a fast-changing world of AI, I think that's important for all of us. 

Stories We Tell Ourselves with Thomas Guthrie, Gwyneth Herbert, the Mind and Soul Choir, the Outcry Ensemble, Vox Urbane and the Lewisham Creative Chorus and an introduction from Alexander Armstrong, will be performed on 26th April at 18.00 at World Heart Beat Academy. The concert will raise funds for MTFA and Papyrus, the UK's leading suicide prevention charity. It is repeated at the Fellowship Inn, Bellingham, at 20.30 on the same evening.  
 Guthrie's recording of Schubert's Die schöne Müllerin will be released in November 2023 on Rubicon Classics. The latest video from his Schubert project with MTFA and Bjarte Eike's Barokksolistene can be seen here.
Lewisham Creative Chorus will take part in a forthcoming documentary celebrating the 50th anniversary of the Tallis Scholars. You can hear about the opera they created for the London Borough of Culture here.