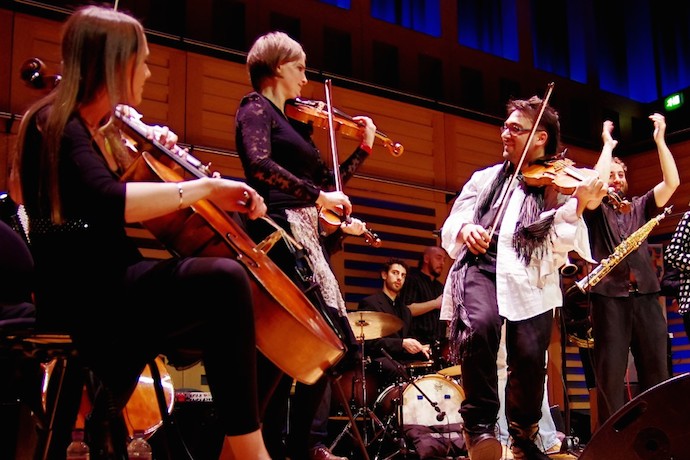 Kings Place, London
By Sam Pryce
Since 1999, global music magazine Songlines has devoted itself to discovering the richest and most exciting sounds emerging from artists all over the world. Its festival, Songlines Encounters, has now been running for seven years and made its return to London's Kings Place over the first three days of June. With a programme promising collaborations, debuts and an array of unusual instruments, the festival brought together musicians and artists from across the globe, including Portugal, Senegal, India, Lithuania and Norway as well as the UK.
The first night of the festival saw a debut UK performance from renowned fadista Ricardo Ribeiro, performing with his accomplished trio of guitarists: Carlos Manuel Proença (rhythm guitar), Daniel Pinto (bass guitar) and Luis Guerreiro (Portuguese guitar). Ribeiro specialises in a traditional style of Portuguese song called fado – a Lisbon-born type of melancholy folksong that can be traced back to the 1800s, usually accompanied by guitar or mandolin. A passionate performer, Ribeiro was clearly overjoyed to be able to share his timeless and evocative native music with his first British audience. While the setting for the performance may have been a touch too formal, the earthy poeticism and quiet honesty of this distinctive brand of traditional folk music shone through, with Ribeiro's vocals proving a perfect match for the hall's excellent acoustics. As if that wasn't eclectic enough, on the same night in Kings Place, the festival hosted a collaboration between the outstanding South Indian violinist Jyotsna Srikanth and London's Bollywood Brass Band, celebrating the music of Bollywood and South Indian cinema accompanied with their respective film sequences.
Critically-acclaimed London-based band Kefaya, who only released their debut album Radio International last year, performed their internationalist style of globally-influenced music on the second night of the festival (June 2). The band's line-up seems to be in a constant state of flux as the collective gradually broadens its horizons, but its core members are comprised of Italian guitarist Giuliano Modarelli, keyboardist Al MacSween, bassist Domenico Angarano and drummer Joost Hendrickx. No matter what culture or genre that's inspired them, Kefaya seem to be able to skilfully handle any musical style, mixing flamenco, desert blues and jazz improvisation. Utterly unprejudiced in its influences, their concert felt like a musical tour around the world. The band encompassed what the overall festival was aiming for – a surprising synthesis of musical styles, international in scope. 
The global-musical-fusion continued into the final night of the festival with a joint concert by Solo Cissokho (from Senegal) and Indrė Jurgelevičiūtė (from Lithuania) uniting two instruments you'd never think of putting together – the West African kora (a 21-string lute-bridge-harp) and the Baltic zither. Closing the festival was the English folk singer and song collector Sam Lee with Vindauga, a quartet of musicians from Norway and Scotland.
In light of the tragic recent events across the UK, the Songlines Encounters Festival offered some much-needed hope and optimism, as musicians and musical styles from a diverse range of countries came and played together, resisting our current state of cultural dissonance in the form of these heartening and harmonic musical dialogues. 

For previous editions of the festivals, click on the videos below