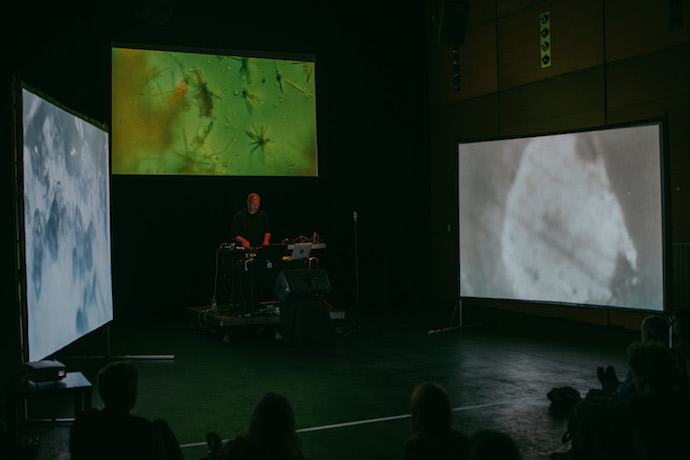 By Myles Oakey
What would it be like to hear the sound of a flower blossoming, as it accelerates through time-lapse? What about the sound of cells dividing and crystal forming? Or the sound of a unicyclist's pedaling, bouncing off the walls of a small concrete room?
Jules Rawlinson imagines sounds where they don't exist. 'Even right now,' Rawlinson gestures as we sit in the bar of Glasgow's CCA, 'there are tiny bubbles popping on my beer.'
'If I put a microphone on there, you'd hear it. [It's about] imagining a microphone in unexpected places.'
As a sound designer, audio-visual composer, performer of live electronics, and academic at Edinburgh University, Rawlinson has a very particular way of thinking about sound.
As a composer of computer music since the mid-90s, Rawlinson has been exploring electronic sound for almost 25 years. An early infatuation with the rich tonal palette of guitar pedals led to designing and building his own sounds through analogue and digital synthesisers and computer based-processing.

In 2005, Rawlinson began a Masters in Sound Design, followed by a PhD in composition at Edinburgh University, and now holds a staff position as Lecturer in Digital Design. All that time, Rawlinson devoured new projects. 'I didn't say no to a project, for quite a few years,' he recalls. The result is a vast personal archive or sounds, orchestral recordings, and live remixes that the composer pulls into his work as an improviser and collaborator across a range of projects, including a collaboration with composer Matthew Collings for A Requiem for Edward Snowden (2015).
In Interval and Instance–a work the composer describes as live cinema–Rawlinson gives new life to the archival films of Edinburgh biologist Eric Lucey through reimagining sonic possibilities with attention to scale and motion. 'Because there is no sound in the films, it gave space for my imagination,' Rawlinson says.
Eric Lucey, filming in the 60s and 70s, was pioneering in his use of camera technology as a research tool, observing the behaviour of microscopic cells, insects, animals, and human behaviour, as well as physical processes and patterns.
'The films make quite extreme use of speed and scale and motion,' Rawlinson explains.
'Firstly, it was about selecting which particular clips I was going to work with, then formatting and cleaning them up. During that process I was understanding what those clips were, and being inspired by the picture quality within them: texture; grain; detail; and motion.'
Interval and Instance first emerged as a commission through the Edinburgh Film Festival in 2018 after Rawlinson came in contact with Lucey's films in the Special Collections of Edinburgh University. Since its premiere the work has developed in its complexity. For Edinburgh's Dialogues Festival, Rawlinson turned the work into an installation with an additional two footage reels, offsetting the images against one another, in literal dialogue. For this latest performance, supported by Cryptic, and its Artistic Director Cathie Boyd, Rawlinson had been given the support and time to experiment with the spatial effect of these three screens, and incorporate additional speakers that disorientate the listener through refracted sounds.
In a scene of splitting microscopic cells, the sound is pushed with the explosive attack of cracking, splitting, boiling, and static. Jules creates a splintering sound of fragile ice, frozen in time, prolonged and intensified to unnatural and uneasy duration.
'The shape of sounds, is something quite important to me,' Rawlinson explains. 'All sounds have a gestural shape: a beginning; a middle; and an end. [In sound design], it's a process of adding new life [to sound and image] through custom instruments, and building spaces that create a richly engaging and immersive experience.'
In articulating his approach to composition, Rawlinson describes what he refers to as Chamber Electronics. Rawlinson notes that while the instruments of a chamber orchestra, or a string quartet, may cross over, they generally occupy their own frequency ranges.
'Separation for me is often key. It's important to preserve the clarity of electronic, orchestral, and instrumental sounds, and the sound design as well. Just leaving space for each sound. Actually, carving out a mix can become quite sculptural,' Rawlinson describes.
In a select scene in Interval and Instance, Rawlinson recreates the squeaks and wobbles of two unicyclists performing tricks, and designs an intricate layering of reverb to situate the listener within the space, following Lucey's use of scale and motion.
'To build this space, there are at least five or six layers of reverb that are very finely tuned, filtered, and processed, so the frequency content is staying out of each other's way. It creates something that, if you spread things about in space, becomes really alive, richly engaging, and immersive,' Rawlinson says.
At the end of a rich conversation that spilled into Spectromorphology, design of modular synthesizers in Max MSP, and performance practice for live electronics, I feel myself already adopting new ways of listening and imagining sound. Interval and Instance uses the audible to help us interpret the visual of Lucey's archive.
But it was Rawlinson's sound to Lucey's blooming flower that lingered in my mind.
'If you look at a flower blossoming in time-lapse, it seems to accelerate, in that it will start unfolding, and the process speeds up. You have to perform that accelerating amplitude variation, so that the sound pops when the bud opens.'
'The sound itself is about layering,' Rawlinson tells me. 'One layer is latex gloves, the really rubbery sound, captured up against a microphone. Another layer is of leaves, but I've filtered out different parts of the spectra, so in the gaps of the sound of latex gloves, you'll hear the leaves emerge.
'It's actually five sounds, all layered, and finely filtered to add up to a brand new sound – that didn't exist before.' 

Jules Rawlinsons's Interval and Instance was shown at CCA Glasgow, as part of Cryptic Nights on June 6th.