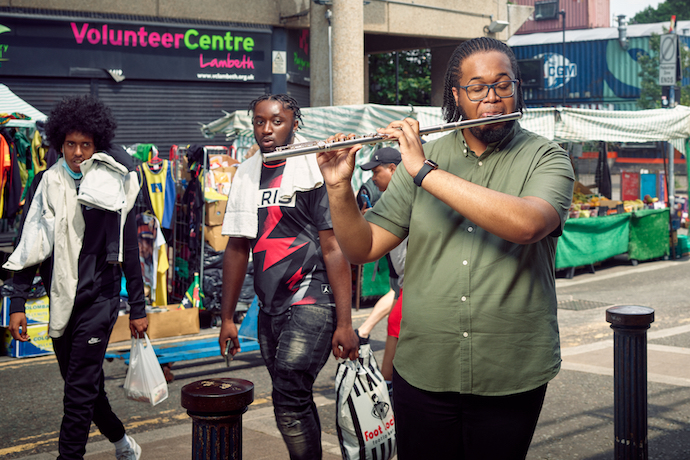 Brixton
By Jonty Watt
A small park in the middle of a residential estate in Brixton. Disco music, Afrobeats, rap. Popcorn, beer and hot sauce on sale. This may seem a surprising description of an orchestral concert, but the Brixton Chamber Orchestra are full of surprises. Pretty much nothing about the ensemble reflects what we have come to expect from a traditional orchestra – the music, the venues, the people in the orchestra, and (especially) the audience.
The concert was part of BCO's ongoing Summer Estates Tour 2023, an initiative now in its third year. The ensemble will be performing 12 free concerts on 12 different estates around South London. The BCO prides itself on bringing orchestral music to new audiences, and, casting an eye over the happy, picnicking faces around me, it seemed clear that they are having some success on this front. There were children playing, families having dinner, old friends reuniting, and those who, like me, simply sat and enjoyed the show. This was an inclusive environment, and everyone seemed to be having fun! What a welcome change from the silence of the concert hall.
The evening's programme reflected BCO's eclectic approach. We heard everything from disco to Afrobeats, Haydn to The Who. Founder and director Matthew O'Keeffe's charismatic conducting and emceeing kept us all at ease, and this relaxed atmosphere eased along the odd technical mishap. We knew what we were in for when, upon realising that the singer's microphone wasn't working for the first song, the cigarette-wielding sound engineer sauntered out from the audience to have a go at fixing it mid-performance. This was certainly not the Proms, and it was all the better for it.
The orchestra itself is a diverse group of early-career professionals. Seeing an ensemble entirely made up of young people was a pleasant surprise, and they brought freshness and vivacity to their playing. The Summer Estates Tour is a collaboration with Brixton's Artist Development Programme (ADP). We heard performances from aspiring local musicians, including singers and rappers, which embedded the evening more fully within its local community.
For the Brixton Chamber Orchestra to call themselves a 'chamber orchestra' is (deliberately, I suspect) misleading. Do not attend a BCO concert expecting to hear a chamber orchestra. Do go instead confident in the knowledge that you will have fun and be part of something changing the landscape of classical music today.