By Alec Evans
Matthew Sharp – cellist, singer, director, composer and theatre producer – does things his own way. He sings while he plays the cello. He performs in his own productions. He has appeared everywhere from Wigmore Hall to Glastonbury, and this month sees him take on a typically unconventional project.
The project in hand is Black Dog – The Dreams of Paul Nash, written by the musician, film maker and artist Dave McKean, in which Sharp sings songs about World War I artist Paul Nash. The UK premiere of the multimedia performance will take place at Kendal Town Hall as part of 14-18-Now, a series of First World War art experiences now in its third year. As Sharp explains, the performance follows an unusual format: 'It's going to be very multi-sensory and immersive, something beyond the concert experience.'
Sharp, who has premiered works ranging from Sir John Tavener's The Fool to Errollyn Wallen's Cello Concerto, knows exactly what he does and doesn't like in contemporary new music. Too often, he explains, it can tend toward the pseudo-intellectual, without enough emphasis on emotional honesty. 'But I love it when composers risk themselves and the music becomes transformational,' he explains. His hope is that Black Dog will convey this sense of honesty, while rekindling our interest in the output of Paul Nash. 'Works sometimes get locked up in the museum. They need to be brought to life. That's one of the things that makes Shakespeare great: its reinventability. It means something to 400 years' worth of people.'
Reinventability is clearly a key topic for Sharp, who, from an early age, has zig-zagged between disciplines. As a child, he did a great deal of both singing and theatre ('I made an illustrious debut as a mouse in Noah's Flood when I was about three,') before getting serious about the cello at around the age of twelve. Throughout his teens he performed cello concertos, and after leaving school studied with Boris Pergamenschikow, who – funnily enough – also reignited his love of singing. He started formal singing lessons aged thirty, and was cast as Papageno in Opera North's 2003 production of The Magic Flute.
Playing while singing is like splitting your head in two and putting it back together.
Nowadays Sharp often combines the two disciplines simultaneously in unusual locations – a practice which he pushed to extremes in 2012, when he performed a one-man-opera-on-a-bus as part of the Aberdeen Sound Festival. 'The cello and baritone voice share a sound world, so untangling them can be quite a challenge. I love the capacity for direct address that singing whilst playing gives me,' he says. 'Plus, I like the idea of being the troubadour, the strolling player. The cello is a slightly bulky troubadour instrument  – it's far from being a guitar or accordion – but it has a kind of power to it.'
Learning to multi-task in this way, Sharp admits, has been a labour-intensive process: 'It's like splitting your head in two, and putting it back together again,' and playing in unusual environments has its difficulties, not least the slipping cello spike. But he has developed a damage limitation system: 'I have a way of playing the cello without allowing it to touch the ground, and can move around with it.'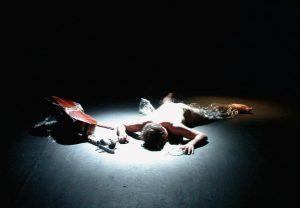 Beyond Black Dog, we can look forward to hearing and seeing a lot more of Sharp combining music with other art forms through Sharp Productions, his joint enterprise with producer Fiona O'Mahony. He also hopes to work with McKean of Black Dog fame on a film featuring a three-movement cello concerto called Death's Cabaret – A Love Story, with a folk narrative and music by Stephen Deazley.  'It's for the kinds of audiences that I frequently meet, who feel the classical scene isn't for them,' explains Sharp. 'I wanted to make something where the thrill and virtuosity of "classical" playing and invention existed in a context that connected deeply to life and humanity.'
When I ask what further boxes he plans to tick, Sharp says that's not the way he operates: 'I think about my career as just part of an ongoing adventure. When [my partner and I] first had kids, there was a lot of talk about planning pregnancies and things like that. But you can't plan biology. Careers are the same in many ways.' 

Black Dog: The Dreams of Paul Nash, Kendal Town Hall, May 28