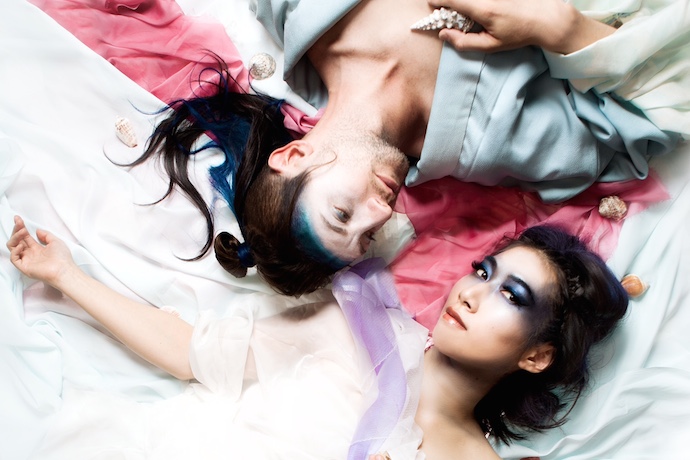 Thames Tunnel Shaft, London
By Sam Summers
Theatre Lapis' Mermaids in the East – The Red Candle situates an ancient Japanese folktale – full of magic, prophecy and mythology – in the most inauspicious of settings: an abandoned railway station below The Brunel Museum in London.
The play is based on a retelling by Ogawa Mimei, a Japanese writer likened to Hans Christian Anderson. Mimei distils centuries' worth of oral folklore into pithy, and frequently macabre, morality tales. The Red Candle and the Mermaid tells the story of a mermaid adopted by human parents, whose penchant for creating candles – rumoured to be magic – leads to her ruin. Sold to an exploitative merchant, she is sunk in a storm along with the boat carrying her, and locals fear that to light a red candle is to invite the fatal tempest to return.
It's a tale that is fairly receptive to interpretation – is it a warning against the corruptive effects of industry wrought in Japan's Meiji Restoration? An elegy for artistic life? A pessimistic 'man vs. nature' tale? Director Yohiro Ichikawa, taking liberties with the narrative, focuses primarily on the last of these strands. Drawing on the shared trauma of 2011's Tohoku tsunami, the production dramatises humanity's fraught relationship with the environment. Sheets of fabric represent the sea (roiling, then calm); the rippling of a mother's dress; a pillowy bed of cloud.
The chosen location is not incidental to the play; it is the most interesting point of an otherwise minimalist, straightforward production. A circle of seating encloses the small performance space, with a staircase at the rear providing the only entry point. The shaft is not only cool, but dark: a series of strip lights provide eerie, undiffused light, and a lone candle flickers in the centre of the stage. Shadows cross the blotched 19th-century stonework and piping, a constant reminder of the blight of industry, and there is the the occasional roar of the Underground. Close your eyes and it might be thunder, wind or the ocean, not tube trains.
Ichikawa makes abundant use of the setting. The play's beautiful, authentic Japanese score becomes haunting in its unpredictable spatial orientation: singers linger behind audience members, their disembodied voices drifting out of the inky darkness, immersing the audience in unsettling surround sound.
Whilst the play is only an hour long, it sags a little in the middle, as the novelty of its setting begins to produce fewer and fewer surprises. The acting, too, is a little predictable, relying too heavily on the melodrama of its source material. Still, this is a charming, satisfying production, resituating some of the riches of Japanese culture in an unexpected but strangely appropriate setting.