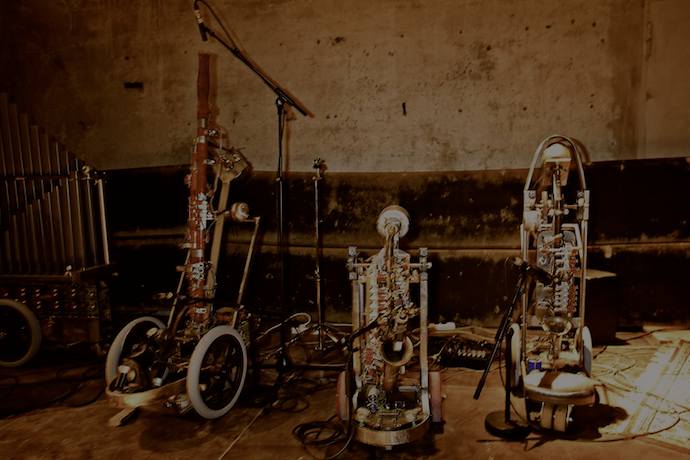 Musikbrauerei, Berlin
Emerging from a backalley in east Berlin, you turn up at a shabby industrial building and a shadow in the darkness points the way into the cellar. You wind your way through damp corridors, accompanied by the distant hum of electronics. Eventually, you find a large room filled with instrumental mutants: percussion, brass and woodwind fused to jumbles of wire and blinking lights.
This may seem like the setting for a mad scientist's secret laboratory, but in fact this former brewery in east Berlin was the home to a three-day celebration of weird and wonderful musical machines. The Wir sind die Roboter festival featured an array of instrumental contraptions from across the globe, with installations and exhibitions accompanied by three nights of musical performances.
Robotic instruments are by no means new. Self-playing 'player pianos' were a phenomenon in early 20th-century America, reproducing popular pieces and the performances of famous virtuosos in the comfort of your own home. American experimentalist Conlon Nancarrow saw the potential of the player piano to pioneer new frontiers of sound, writing over 50 studies for the instrument, four of which were performed at the festival.
Composed between 1948 and his death at the end of the 20th century, Nancarrow's Studies for Player Piano still astonish in their physical impossibility and dazzling complexity. A new commission from Canadian sound artist Nicolas Bernier, featuring the instrument in duet with ethereal digital sine tones, was more tentative and restrained.
But at the centre of the festival were the musical robots themselves, many built by the Belgian Logos Foundation, who have been creating these machines since the late '60s. All of them, from automated sousaphones to self-ringing bells, were fantastic structures and marvels of engineering, quite apart from the unearthly sounds they could create.
Marcus Schmickler's new work for the instruments, ATA OTO, was lengthy and attritional. Played in near-darkness with a flickering green strobe, the mechanical assault of drums and wood blocks was a nightmarish experience. Bryan Jacobs provided respite with a minimalist piece for his own automated wind instrument, 'Flute/Compressor'. Made of just a flute, air compressor and a simple kinetic mechanism, this little homemade structure is capable of unleashing an exhilarating cacophony of blown air and clattering buttons. This was a piece of pure invention, creating something utterly new with simple means, and neatly showing the promise of musical machines. 

bryanjacobsmusic.com/mechanicalflute.html