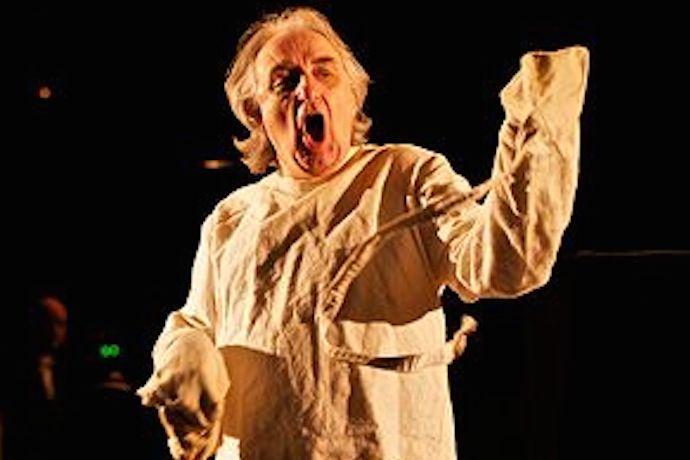 The Wonder Inn and St Peter's Ancoats, Manchester
By Harry Smith
Is the radical still radical? This is what I found myself asking last week when faced with two very different kinds of experimental music gigs. First up, Vitalija Glovacyte and Michael Cutting presented THIS ONE NIGHT ONLY, an evening's worth of 'immersive experimental music and visuals' which took place in the cosy bar/café-cum-gig venue The Wonder Inn. Then the Psappha Ensemble celebrated their 25th anniversary by paying tribute to their recently departed patron of 20 years, Sir Peter Maxwell Davies. Their main offering was his 8 Songs For A Mad King, the height of avant-gardism not so long ago. In comparison with TONO, however, it came across as old 'New Music', especially in the comparatively old-fashioned setting of a renovated church, with no booze on offer until the interval.
But both events took on apposite forms for their respective contents. The unceremonious vibe of TONO wholly suited the music, which frayed at the edges with its mixture of analogue machines, AM radios, and homemade and prepared instruments. As a spectator, you felt you were witnessing works-in-progress insofar as the composers were performing pieces that represented points along their own creative journeys. Both Benjamin D. Duvall's piece for prepared guitars and AM radios and Michael's I Am A Strange Loop V for Fender Rhodes and three reel-to-reel tape recorders contained heady, warping and looping sound worlds, and balanced well with Caroline Haines's brand of alien pop and Joe Snape's self-narrated 'half film documentary, half music-theatre piece', Who Is Raymond?. A highlight of the night, the latter centred around Snape's fictitious finding of a scrap of paper on the New York City subway that read 'Raymond looking for work' above a phone number, inducing Snape to 'head off on a wild goose chase across the American south in search of the note's author and an explanation for the trail of clues it leaves behind'. It was a fearless and brilliant realisation of what could have been a naff idea, whilst corroborating the strong, idiosyncratic DNA of Snape's other work.
Psappha's performance, meanwhile, hearteningly reaffirmed the necessity of the old-fashioned 'concert'. Their performance of Eight Songs for a Mad King, featuring baritone Kelvin Thomas, was pure theatre, telling the haunting story of King George III's descent into madness in a way that demonstrated the ensemble's  intimate association with the composer and his work. Maxwell-Davies's Stedman Doubles, written in 1955 and thought unplayable until the composer gave the manuscript to Psappha, was equally as persuasive, as was David Horne's piece for cimbalom and ensemble. Virtuosity exemplified, the work's complex gestures drew impressively tight playing from the ensemble, especially given the lack of conductor. For all its busyness, this was music that sustained attention until the end.
Overall then, encouraging signs of health at both ends of the Manchester experimental music scene.