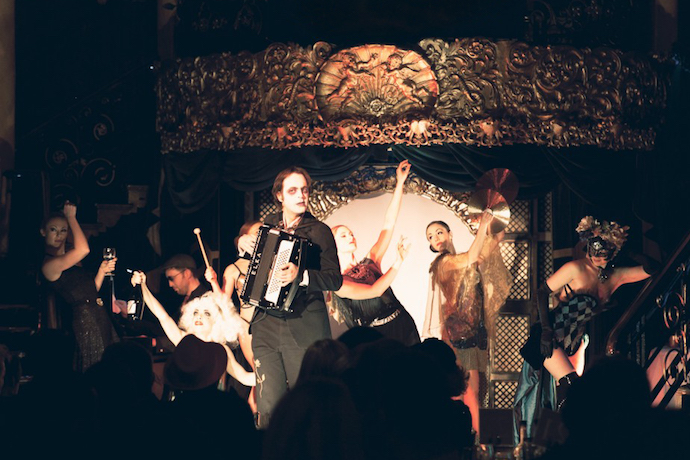 Leicester Square, London
By Jonny Venvell
Nestled in the centre of Leicester Square's Christmas market, last December, was an unusual structure: a wooden semi-permanent arena housing a very different type of entertainment to the crêperies and bric-à-brac stalls outside.
Step inside and through the smoky, red gloom you found yourself among laughing dancer girls and top-hatted rafes who would steal your coat off your seat if you weren't looking.
The master of ceremonies called those gathered to take their seats, and the Black Cat Cabaret began – a hedonistic menagerie of acrobatics, music, and burlesque a la Parisienne.
First up was the 'Vitruvian Man', a Cyr wheel gymnast who turns pirouettes perilously close to the edge of the stage. Other first class circus acts followed: a hilariously apathetic hoop dancer, a trapeze artist spinning wildly through the air to the sound of Prince's 'Purple Rain', and a dazzling fire-breathing display by a bejewelled performer.
The real highlight of the show was a stunning set given by a pair of acrobats. Weaving in and out of each other's bodies they danced as if they were one organism, effortlessly moving into gravity-defying poses.
Though the standard of the performances was slick, a few moments fell slightly flat. The drag performance, which consisted of mouthing along to a remix of Katy Perry interspersed with famous movie battle speeches, was always going to struggle to compete with the death-defying stunts that preceded it. And in its sexual confidence the cabaret did sometimes veer towards vulgarity, as when an entertaining comic song ended up degenerating into a simulated orgasm on one hapless audience member's lap.
21st century cabaret is difficult to pull off. As well as being havens for creatives and sexual liberals, cabarets can reinforce degrading patriarchal gender roles, with female performers being expected to incorporate nudity into their act, while a fully-clothed male MC presides over the event. Even in this production, it was the women rather than the men who invariably ended up more scantily clad than when their act begun. But given the potentially problematic event format, the Black Cat Cabaret did a brilliant job of preserving the lively spirit of '20s Paris, without things becoming too debauched.
Overall, the sheer quality of the performances, held together by the quick witted geniality of the MC, made this a night out par excellence.