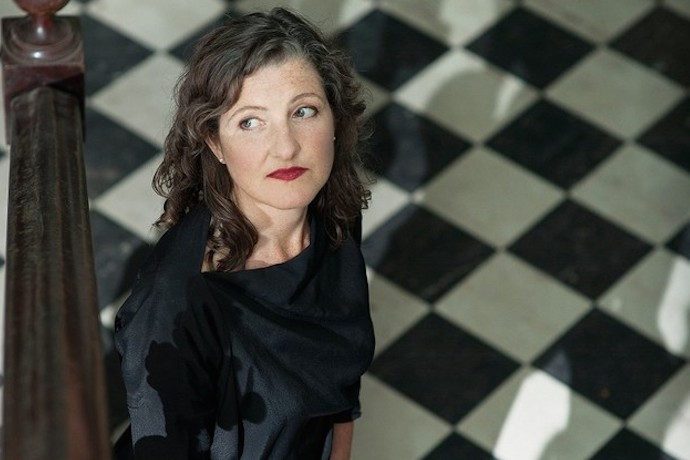 The Clore Ballroom, Royal Festival Hall
By Christopher Webb
One of the first sounds you hear in Jocelyn Pook's Anxiety Fanfare and Variations for Voices is a dial-up tone followed by an automated customer service helpline. Other noises can be heard: a departing train, busy traffic, muddled voices. Then, suddenly, a loud arresting fanfare.
Anxiety Fanfare follows Pook's groundbreaking 2012 work Hearing Voices, and is a continuation of her interest in the relationship between music and mental health. Her newer work explores the more quotidian experience of anxiety, which, as the opening commotion suggests, is often exacerbated by the business of everyday life and modern technology.
In fact, it is technology that deserves a special mention here, as it was deployed to great effect. As Pook explained in a Q&A, the soloists and the choir were wired up to a data-processing system, which had been developed specifically for the performance by researchers from the University of Aberystwyth. The performers' heart rate, movement, and temperature were measured throughout the piece and represented by a selection of graphs and images. These readings were then shown in real time upon the screens either side of the ensemble. The higher the readings, the more uncomfortable the images were supposed to be (ranging from bridges to hobs to crowds). This was, as Pook herself put it, 'anxiety live on screen.'
The 'Group Anxiety' levels mostly matched the intensity of the music. As the choir sang 'feeling very tired/ feeling very drowsy,' the group's anxiety level dropped before rising again with the piece's increasing tempo and the soloists' hurried recital of everyday tasks on the verge of being forgotten: 'must not forget dry cleaning!/… to call the bank!' and 'haven't seen The Sopranos!/…The Killing!' These lines gave the performance a light touch. Yet they serve as serious reminders, too: anxiety is often triggered by those things we might typically dismiss as trivial or mundane, but end up mounting and mounting before an eruption that has all the intensity and suddenness of a blaring fanfare.