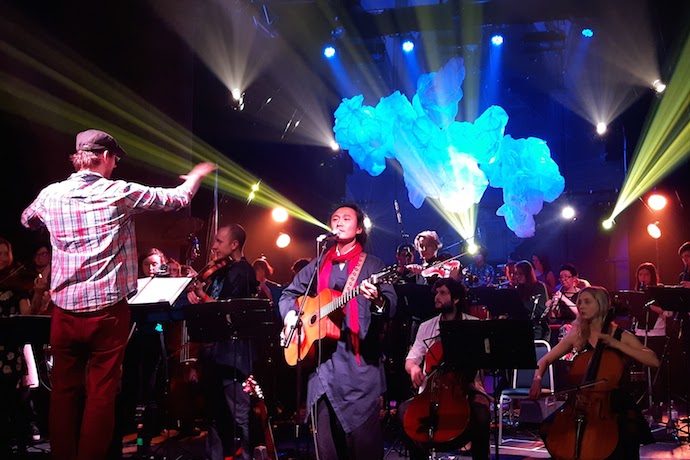 By Miranda Heggie
As the Tinderbox Orchestra release their debut album, it's clear that this is certainly no ordinary youth orchestra. Founded in 2010 out of a desire to create a platform for young musicians to collaborate and explore different techniques and styles, the group produces music that is constantly fresh, invigorating and exciting. 'I think the vision at the start was an idea to create a really unusual orchestra, something that brought together lots of different kinds of people from different kinds of backgrounds,' says Jack Nissan, founder and Creative Director.
There is a real spirit at the heart of the band, and one which runs steadily throughout the album of cross collision of music forms, and organic germination of ideas. 'There's a lot of scope for people to have their own ideas, to write their own music and contribute to designing the concert,' Jack tells me. Sunday's performance, in Edinburgh, as the headline act for the final night of Hidden Door Festival, certainly made this evident, with music written and improvised by members of the orchestra, and musicians as young as 14 taking to the stage to conduct. There are some awe-inspiring collaborations too. Beijing based experimental group DaWangGang joined the orchestra on stage for a bombastic, fiery rendition of Talking About Birds Pt 2, the 4th track from the album. Written by DaWangGang frontman Song Yuzhe, the song takes its title from an imagined group of animals discussing with great gusto the various faults of hoopoes, ravens and geese. Formerly a singer in one of China's first punk bands, Yuzhe has since travelled through rural China absorbing folk techniques and melodies, and he fuses both styles as he steers the orchestra through this remarkable piece.
The ultimate challenge is to create an orchestra that is ambitious, while being completely all-inclusive.
Klezmer, jazz and Eastern Orthodox influences are but a few themes to swirl through More, a piece written in collaboration with musicians from the Balkans Music Camps in former Yugoslavia. The album's next track takes more the form of a standard rock song, with Toby Mottershead of Edinburgh based roots/blues outfit The Black Diamond Express bringing his gravelly vocals to the captivating anthem 'Live Free or Die'. Though not featured on the album, 2015 Scottish Album of the Year winner Kathryn Joseph joined the band onstage for a couple of numbers, her silky vocals and dreamy piano playing beautifully juxtaposed with Tinderbox Orchestra's fierce energy.
 Most of the music on the album is an original composition for, or by, the orchestra. 'We definitely push lots of original music', says Jack.  'We really encourage our musicians to write their own stuff, and we like to do original collaborations with local bands or interesting artists and try and create something new and different with the orchestra. Quite often we will ask people in the band if they've got ideas for projects they'd like to do, themes they want to explore or bands they want to collaborate with, and we pull together an amazing list of ideas from people and then craft a project around that.'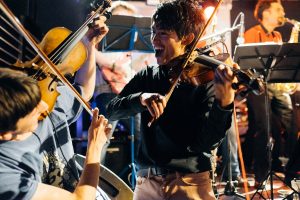 Inclusivity is a major attribute to the orchestra, and though within the overall Tinderbox Project outfit there are musicians of various levels, it's remarkable that, for the most part, the ensemble is not auditioned. 'We sometimes rearrange the music flexibly, so there are parts that kids who don't play very much can play and parts for more advanced players. The ultimate challenge is to create an orchestra that is ambitious, really high quality, creative and doing something really original, while being completely all-inclusive.'
 I asked Jack whether this was a difficult balance to maintain. 'People often perceive these things as different. Since the very beginning, we've been asked if we are a youth and community project or an arts and music project. There's an underlying assumption, I think, that a youth or community project is inclusive but not very good, and an arts and music project is high quality but not inclusive. It's a dichotomy, and I don't agree with it!  I think they really, really can support each other. There are some amazingly important voices, beautiful lyrics and ideas that can come out of all people. When people can start feeling confident enough to express their ideas – that's the crux of all of this work, that's the heart of it really'.  He's right, because on stage you can see a group of young people filled with confidence and loving every second of making music together. And the product, both live and on the record, is fantastic. The music is original, vibrant and fun, and the musicianship on display is sophisticated and intelligent. Tinderbox Orchestra is a project which is both inspiring and inspired. 

Tinderbox Orchestra's debut album Tinderbox is available on iTunes, Spotify and Soundcloud.
Tinderbox Orchestra featuring Kathryn Joseph and DaWangGang play at St Luke's, Glasgow on Friday June 9 2017.