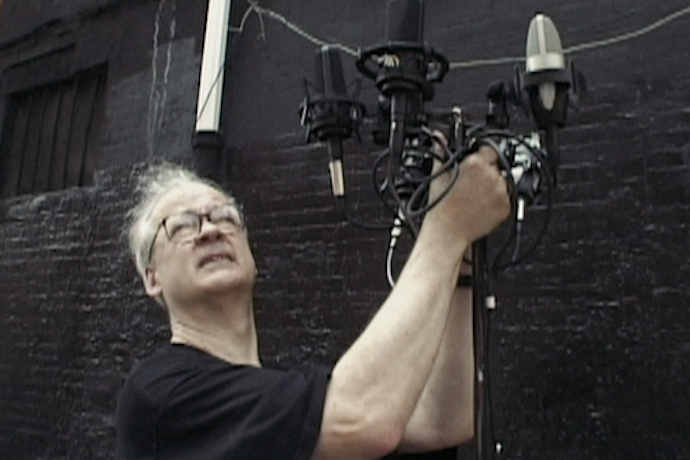 Volksbühne, Berlin
By the time he died in 2016, Tony Conrad had accrued a mythic aura. He was there at the point zero of post-war American experimentalism in New York loft spaces and basements in the 1960s: playing drone music with La Monte Young and John Cale in the Theatre of Eternal Music, working on Jack Smith's notorious banned movie Flaming Creatures, even touring New Jersey in a rock'n'roll band with Lou Reed.
In the opening scene of a new documentary, Tony Conrad: Completely in the Present, shown at a special screening at the Volksbühne Berlin ahead of a wider German release in 2018, Conrad delightedly records the street noise outside his old apartment in New York. The experimental and DIY spirit of the city in the 60s inflected all of his subsequent work as a musician, filmmaker and artist.
The film is a rounded portrait of Conrad's boundless creativity and experimental spirit.  Shot over 22 years and featuring interviews with Conrad alongside archive material, it shows how his artistic thinking was at the cutting edge of music, art and media: whether it be the pure musical minimalism of Four Violins (1964); the psychologically affecting strobe-effect film The Flicker (1966); or the Yellow Movies series (1972-74), white paint that slowly degenerates over time.
Conrad's artistic practice often struggled to keep up with his creativity. He remained an enthusiastic amateur, trying his hand at everything from sculpture to public access TV. A renewal of interest in his work followed the 1993 re-release of his 1972 album with German rockers Faust, Outside the Dream Syndicate. The film features interviews with a younger generation of Conrad fans and collaborators including Moby and Jim O'Rourke.
'The sound comes at you like a railroad train,' is how Conrad described his music, based around violin drones and inspired by his musical experiments with the Theatre of Eternal Music in the 60s. In a solo performance following the film screening, Stephen O'Malley from American experimental band Sunn O))) took this musical credo to heart.
Channelling his guitar through an array of distortion pedals and four stacks of amplifiers, O'Malley performed an hour-long uninterrupted drone of spine-tingling volume and raw power. This was uncompromising and demanding, much like Conrad's work. Those who stayed the course were rewarded with a transformative sonic experience and a glimpse into the nature of sound itself.