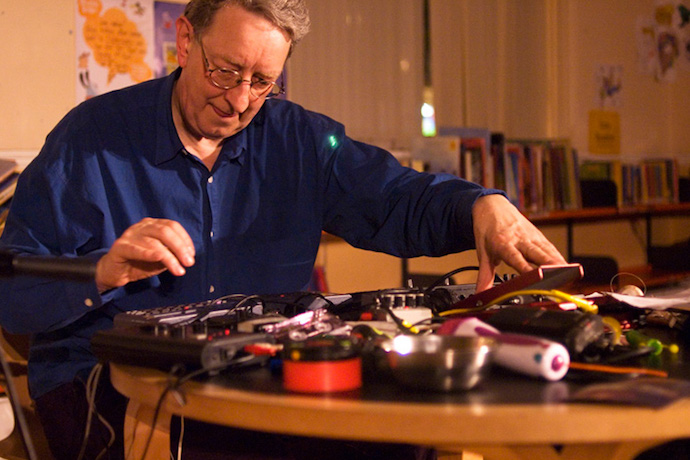 By Simon Fearn
It's a freezing November evening. Steve Beresford and I are precariously carrying a suitcase of instruments aboard a concert venue bobbing on the Thames. We're here for Boat Ting, a monthly evening of improvised and experimental music and poetry, before Beresford jets off for more gigs in Prague and Utrecht. With a career spanning almost 50 years and credits on over 130 records, Beresford is one of the key players on the British Free Improvisation scene. His diverse array of collaborations include projects with comedian Stewart Lee, Ray Davies of The Kinks and Israeli conductor Ilan Volkov.
Beresford unpacks his suitcase and starts to assemble a cluttered table of tangled wires, unusual instruments and everyday objects that will be coaxed into creating daring new timbres. Tonight he will be performing with an electric ukulele; a thunder tube, beloved of amateur theatre companies and small children; and a 3D postcard he'll use to make scratching noises (an idea he borrowed from composer and inventor Hugh Davies). Many other objects and instruments are also scattered across the table.
Take notation away from classical musicians and they had a nervous breakdown when I was growing up, but the new ones aren't like that at all.
Originally Beresford moved away from traditional instruments as a matter of convenience when he started out playing with three-piece Bread and Cheese. The small venues they performed in rarely had pianos and the trio were bored of lugging drums up to the upstairs rooms of pubs. Their solution was to start playing tiny toy pianos and other small instruments, following in the footsteps of musicians like Terry Day, who made music from balloons and Coke cans. 'It wasn't an idea,' says Beresford, 'it was just what worked for that environment.'
Beresford has worked with a huge range of musicians and featured in countless ensembles. His first recording, Journey into Space with Trevor Wishart in 1970, featured the pair playing plastic toy trumpets. 'It set me on a course,' he says. In 1979 he played in one of the stranger acts to grace the Top of the Pops stage. The band was The Flying Lizards, who climbed the charts when band leader David Cunningham collaborated with 'a woman [Deborah Evans-Strickland] who he thought might be able to sing but, it turned out, couldn't sing at all.' They performed a surreal rendition of the Motown classic 'Money (That's What I Want)' which reached No. 5 in the charts. Its weirdly deadpan vocals and clunking instrumentation makes its mainstream success all the more surprising. Beresford was on piano (his first instrument) during the Top of the Pops performance, throwing toy guitars and other paraphernalia across the keys during the bridge.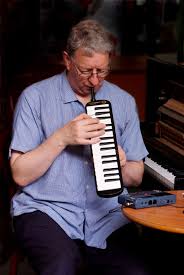 The free improvisation scene has changed a lot since Beresford debuted in the 70s. He says it has moved away from its roots in jazz and edged closer to contemporary classical and sound art. Classical musicians too are letting go of their dependence on sheet music and embracing the virtues of a looser form. Beresford recalls a collaboration with Sonic Youth's Thurston Moore and the London Sinfonietta in which Moore simply told the ensemble to 'play in E minor for five minutes and then stop'.  Beresford says, 'It wasn't like that when I was growing up. Take notation away from classical musicians and they had a nervous breakdown, but the new ones aren't like that at all.'
In April Beresford will join forces with artist Bianca Regina for the next event in their Unpredictable Series at Ambika P3 in Marylebone, London. The pair will explore the intersection between visual art and improvised music, in particular the way musicians take up painting and vice versa. American composer and saxophonist John Zorn will exhibit a series of montages. 'I had no idea he did things like that,' Beresford says. 'We'd like him to come over and play, but obviously that's a big deal.'
Back at Boat Ting, a small audience has congregated in the intimate venue. Beresford performs with Sarah Gail Brand on the trombone and the changing soundscapes of his piece are extraordinary. One minute the music sounds like a mosquito's hum, the next a malfunctioning ukulele, and then a chainsaw leaping through the octaves with the help of a whammy pedal. After the listener has been taken on a hugely varied musical journey, Beresford and Brand simply stop. 'I think that's it,' he says. 'That feels like the end for me.'
In every performance, these sonic worlds with their bizarre timbres and shifting moods are brought into being by Beresford never to be repeated, alive only in the memories of the audience rather than preserved on manuscript paper. Beresford has certainly chosen an exhilarating musical path, and hearing him once means you'll be dying to hear where the next improvisation takes him. 

Steve Beresford performs at Café Oto on December 15. In April 2018 he joins artist Bianca Regina for the next event in their Unpredictable Series at Ambika P3 in Marylebone, London.