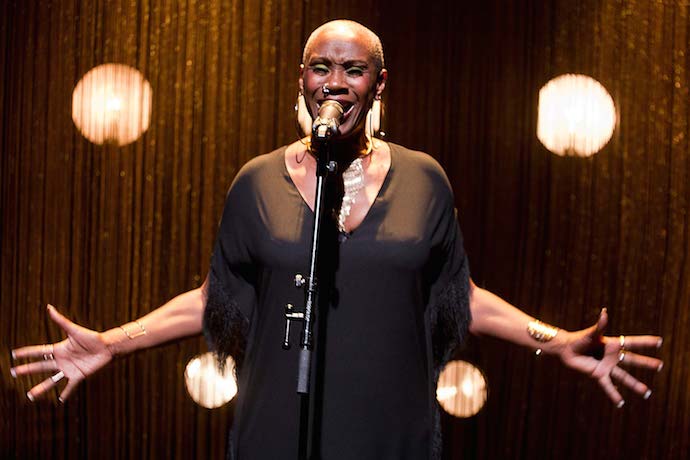 Young Vic, London
By Sam Taylor
Josette Bushell-Mingo's one-woman show invokes the radical spirit of Nina Simone's music and activism to produce powerful, tense theatre.
Donning leather boots, massive hooped earrings and a voluminous Afro wig, Bushell-Mingo struts on stage to the swinging rhythm of her three-man backing band. The atmosphere in the Young Vic's intimate upstairs theatre is one of relaxed anticipation as the musicians play snippets of Simone's 1969 single 'Revolution'.
But those thinking they are in for a pleasant evening of uninterrupted jazz and blues are mistaken. The spirit Bushell-Mingo evokes is not solely that of the great jazz singer who made Bach funky – of hits like 'Little Girl Blues' or 'I Loves You, Porgy'. It is that of Nina Simone, the uncompromising Civil Rights activist; the Nina who scrutinised her audience before performing; the Nina whose first instinct after the KKK's murder of four Black girls in a church bombing in Birmingham 1963 was to find a gun and wreak violent revenge. Nina the militant.
Just like many of Simone's concerts, Bushell-Mingo's show is openly confrontational. It's a bold play that ends up threatening, and almost defending, the mass murder of the majority of the audience (myself included) – an extremely uncomfortable and compelling sequence that challenges the conscience of white middle class theatregoers, turning a once-cosy theatre into something claustrophobic.
'How did we come to a time when we have to say Black Lives Matter?', she asks incredulously, after stamping the stage 16 excruciating times to echo the 16 gunshots that US police fired at the unarmed 17-year-old Laquan McDonald in October 2014.
Nina is as much autobiographical and topical as it is a celebration and reminder of Simone's resonance. Bushell-Mingo pairs Nina's songs with her own experiences of racism, religion and loss as well as worrying social trends. Bushell-Mingo never pretends to imitate Simone's distinctive 'coffee and cream' voice.'Her own is rich and soulful – whether in song or speech, and is backed by a consummate rhythm section.
The play highlights the disconnect between the joy and catharsis of hearing music live and the often painful drama behind it. This counterpoint is most strikingly heard in 'Mississippi Goddamn', a protest song masked by a jaunty showtune facade, which Simone wrote and performed as a non-violent response to the atrocity in Birmingham.
Nina is not only filled with great music, but great writing. There are several eloquent, memorable and compact lines. 'God has been made white, God has been made democratic […] Nina made her own church: reaffirmed our relationship to Blackness, to Africa, to history'. Through the frenetic spiritual energy of 'Sinnerman', the haunting poignancy of 'Four Women' and the uplifting drive of 'Feeling Good', Bushell-Mingo's play resonates with the truth of Simone's gospel. 

Nina continues at Traverse Theatre in Edinburgh from August 5-13, before travelling to Sweden.