By Sam Taylor
At 19 Hugo Ticciati left England and became 'Hugo the hermit', hidden away in the isolated forest fringes of Stockholm.
Until then he had enjoyed a privileged musical education. Born into an eminent family – his grandfather was a composer and his younger brother, Robin, conducts Berlin's Deutsches Symphonie-Orchester – Ticciati began learning violin around age five and was often treated to chamber musicians making impromptu music in his London home. He went on to attend the independent St Paul's School, where he had access to exceptional facilities, before gaining a place at Cambridge.
Yet Ticciati remembers being 'set up very tense… I had pain everywhere, in my back, my neck, my hands'. The physical strain forced him to stop playing. Then he met Russian violinist Nina Balabina: 'I had a ten minute lesson with her and I knew she was the one. She knew what to do with me.' Ticciati phoned Cambridge to say he wasn't coming and bought a one way ticket to Sweden, where he lived for the next four years with Balabina and her husband.
During this time Ticciati seldom ventured outside the house or met new people: 'I just went back to the absolute basics of playing open strings, scales and studies.' Ticciati not only felt the need to rewire his body, but also his mind. He read extensively – absorbing the ideas of Henri Bergson, Gandhi and the ancient Hindu script, Bhagavad Gita – and combined intensive playing with yoga, chanting and zen meditation – activities he still practises regularly. His dedication to routine was almost fanatical. 'I used to have a stop-clock to make myself practice ten hours everyday,' Ticciati recalls. 'I would run up and down the stairs to save time if I was making a cup of tea. I was truly obsessive.'
When one listens to music, it's always filtered through one's experience… And that's what colours the music.
His obsession was vindicated. After emerging from reclusion, Ticciati won several international competitions including the Mendelssohn Cup in 2004. He has since travelled the world performing – most memorably playing Bach to monks during a two-week stay at a Himalayan ashram. In 2011 he founded O/Modernt, an 18-strong chamber orchestra that hosts an annual festival in Stockholm conceptualised around a theme and a composer, this year 'Purcell from the Ground Up'.
Translating as 'Unmodern', O/Modernt's musical philosophy is founded on a simultaneously reverent and playful treatment of tradition. At one of their concerts you can hear Purcell and Monteverdi morphing into Strauss and Berg, or the bombastic heavy rock of Led Zeppelin and Muse: a blurred musical history in miniature allowing the audience to hear the resonances of the past in the contemporary and vice versa. When discussing O/Modernt's aspirations, the otherwise loquacious Ticciati pauses pensively. 'If there's any vision… it's to learn and express and experience the oneness of everything, the interconnectedness of everything – and ultimately experience enlightenment – through music, through culture.'
It's a vision that's manifest in O/Modernt's debut recording White Light. The two-disc album brings together works by Taverner, great minimalist composers (Vasks, Pärt), pop songs from The Beatles, harmonic singing and a sitar raga from Amjad Ali Khan. Ticciati explains this is not 'bland eclecticism' but rather a case of 'respecting and loving the individuality of each culture and their unique expression. It's also finding the correlations, the relationships, how they can enrich one another'.
In this way Ticciati hopes to encourage active listening rather than passive consumption. He elaborates: 'When one listens to music, it's always filtered through one's experience… And that's what colours the music. That's why what we create is white light – it's neutral in one sense because each individual then reflects it with their own colours.'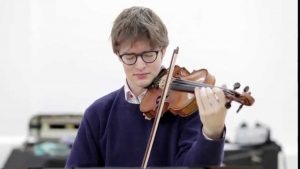 For Ticciati, White Light's tracks share 'a contemplative searching and a stilling of the mind'. Yet, he was keen to balance conceptual coherence with the spontaneity of improvisation: 'In classical music one is so often presented with a perfectly refined product. What I love to do with O/Modernt and this disc – and it's much more difficult on a disc, admittedly – is to express who we are in the moment.'
This fidelity to the present moment is reflected in the album's cover art: an ensō (a single Japanese brush stroke) created by Antony Gormley. In 2020 Ticciati will collaborate further with Gormley, whom he effusively praises as 'so humble, so genuine to his art', on theatrical pieces based around Bach and the ensō. He also plans, in 2019, to pair the music of Beethoven with the poetry of T. S. Eliot, whose radical decontextualisation and reinvention of classic literature partly inspired O/Modernt's musical time-warping.
Interdisciplinary collaboration such as this is typical for O/Modernt. Their previous commissions include Stravinsky's ballet L'Histoire du soldat painted simultaneously by English artist Norman Perryman; a six-hour banquet interspersed with musical, theatrical and dance interludes; and a Thomas Hewitt Jones cantata accompanied by rock balancing, 'sometimes with the biggest rock at the top', by Canadian Michael Grab. 'Some of these things are just fun,' Ticciati concedes. 'But they do awaken a sense of curiosity, a sense of playfulness.'
O/Modernt's all-embracing cross-arts curiosity exemplifies Hugo Ticciati's meditative, holistic approach to music and life. You could hardly call him a hermit now. 

Hugo Ticciati is performing 'Purcell from the Ground Up' at Wigmore Hall on April 7- . He is also curating a concert exploring music and time at Kings Place on May 11. White Light is released on April 6 on Signum Classics.