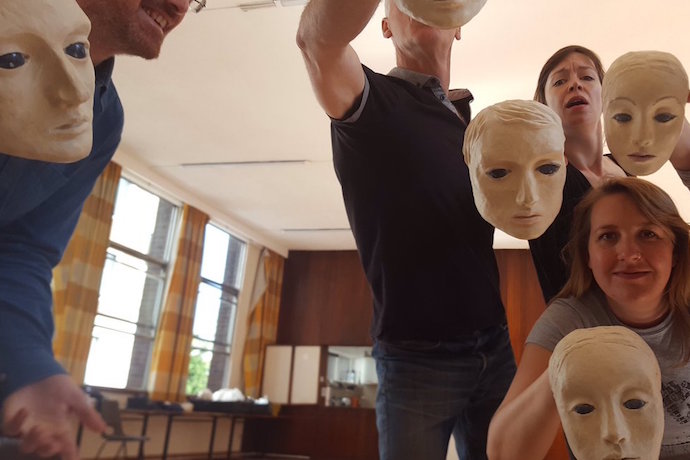 By Sam Taylor
Death is a great leveller – unless you're dealing with puppets. 'Puppets die better than anybody else', explains stage director Thomas Guthrie. 'You simply walk away and leave them. You're not sitting there thinking: 'I can see him breathing. In a moment he's gonna get up and take a bow'… You can be so affected by that as a member of the audience because you've invested life in this thing and suddenly you realise there's none left.'
Thomas Guthrie is a principal proponent of puppets in opera. He first used them in 2001 when directing Purcell's Indian Queen with Robert Hollingworth's Oxford ensemble I Fagiolini. 'It was really shit', he admits. But one aria delivered through a table-top puppet by the 'wonderful' Matthew Brook 'still fascinates' him. 'He sang it totally focused on the puppet. It was completely captivating.'
Take any of the great actors – someone like Ian McKellen or Judi Dench – they're not telling you what to think. They're allowing you to project onto them. It's very like a puppet.
Puppetry has been pivotal to Guthrie's work ever since: from his 2004 performance in Schubert's Winterreise to his recent production of Dido and Aeneas at the Barbican. He's even delivered an hour-long talk on the history of puppets and opera ("another cracking night out").
His latest production, again with Hollingworth and I Fagiolini, of L'Orfeo will also use singer-operated puppets and masks: 'it's a bit like Avenue Q… except with Monteverdi'. As an ancient artform, puppetry is a particularly 'appropriate' medium for myth: 'The roots of puppetry came before even theatre: it's in ritual, in the way humans tell stories. We're not adding puppets to make it a gimmick. Myths should be externalising our human psychology.'
Puppets can also teach performers how to create and sustain characters. 'Puppets don't articulate. They can only invite the audience to imagine what they might be thinking. Take any of the great actors – someone like Ian McKellen or Judi Dench – they're not telling you what to think. They're allowing you to project onto them. It's very like a puppet.'
Guthrie posits that projecting emotions and experience onto puppets allows the audience 'to connect to their own experience', which he considers 'the essence of good theatre'. Yet opera often glories in the epic, the exaggerated, the extreme: descending to the Underworld to visit your dead girlfriend while serenading a three-headed dog with a lyre is hardly #relatable.
Guthrie sympathises. As a child he often felt alienated by opera ('it seemed to be people indulging in an over-emotional nonsense'). Yet stories always stimulated him. He recalls constructing narratives for wordless pieces of music, setting his favourite, Mozart's Symphony No. 40, to a bullfight. Guthrie connects his appreciation of storytelling to his family background; his parents were social workers while his maternal grandparents were Jewish immigrants who arrived in Salford in 1906: 'I think that it is a part of who I am. Storytelling is the essence of community, the essence of escapism in a group of people.'
The relationship between storytelling and music is essential to Norwegian violinist Bjarte Eike's project, Barokksolistene, in which Guthrie sings and plays the fiddle. The project aims to recreate the dissident atmosphere of a seventeenth century London pub in the era of prohibition and closed theatre. This September they will perform sea shanties, folk songs, Purcell and improvisations at The Globe.
After L'Orfeo Guthrie hopes to direct Syria's Secret Library, an upcoming book by Mark Thomson set in the suburbs of Damascus following four years under siege. 'Councils still collected the bins and put any book they could find in an underground library. Nothing was censored. People read about medicine, engineering, poetry, Shakespeare, how Libya was rebuilt after the war. It's about the survival of culture and imagination.' Opera then must engage more with a world of escalating extremity: 'That's what we need to be doing. If we can marry theatrical storytelling with extreme yet elemental human nature, it should be the most relatable thing.'
Making relatable – and accessible – opera is fundamental to Guthrie's charity, Music and Theatre for All. When asked what established opera houses need to change to encourage new audiences, he responds bluntly: 'The shows themselves are not good enough', he sighs before lamenting an 'indulgent', 'incomprehensible' production of The Queen of Spades at the Royal Opera House.
Then there's lazy, patronising signifiers of youth culture that project 'understanding' rather than attempt it: conspicuously placed mobile phones, conversations conducted unnecessarily over Skype ("it's bullshit"). More previews are needed. 'Previews are about discipline – the discipline of making sure what you're doing is communicating: it's not for you, it's not for people who've seen it before – it's for people who've never been before: are they getting it?'
Another answer is – you guessed it – more puppets. In alerting the audience to theatre's artifice, puppets paradoxically persuade us to surrender more readily and more fully to illusion. Inviting imagination, rather than imposing an interpretation, is imperative. Yet some directors don't consider this a priority: 'They think, 'how can I dominate this moment to make my name famous?' Do less rather than more. Don't tell people stuff.' For Guthrie, opera is at its most immersive when it's not obvious who's pulling the strings. 

Thomas Guthrie's production of L'Orfeo runs July 5 at YEMF, and July 7 at LSO St. Luke's