By Simon Fearn
Philip Venables is now considered one of the UK's most exciting young composers after his revelatory operatic adaptation of Sarah Kane's 4.48 Psychosis. But back in 1998, Venables was a nervous 14-year-old waiting to play his Grade 6 violin pieces at an evening masterclass with his violin teacher's teacher. He knew a little about the man he was about to meet – that Rudolf Botta was a Hungarian violinist and refugee; that he had fought against the occupying Communist government following the Second World War; that he had been an inspiration to Venables's own teacher, Marilyn Shearn.
'His house was totally nuts,' Venables remembers. 'It was a semi-detached 70's house in New Mills in Derbyshire, but there were these big Gothic arches that he'd had put in the living room. It was bizarre! He was quite a character. Very boisterous. Very engaged in music.'
Venables was reminded of the meeting when, two years ago, he stumbled across a video recording of his younger self playing Bartók for Botta that night. 'I sound terrible,' he says. 'So out of tune.' Yet finding the video made Venables reconsider the significance of his meeting with Botta. The Hungarian violinist had nurtured Shearn's love for the violin. Shearn herself had been hugely influential for Venables. Having not come from a music family, Venables's path to becoming a composer really began when he started taking free lessons with Shearn on a violin loaned to him by the county council. Without Botta and Shearn, Venables would be a very different musician, or perhaps not a professional musician at all.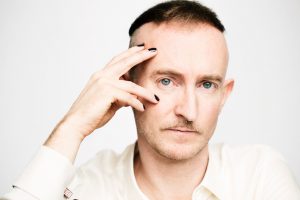 The germ of a composition was born. 'It took a while for the pieces to fit together,' Venables says. 'I realised I didn't want to write a concerto that was just an abstract piece. I knew I wanted to make some kind of narrative.' Gradually Venables began to assemble the different components of a new violin concerto, Venables plays Bartók, which was premiered at the Proms this month. It was performed by the BBC Symphony Orchestra and Finnish violinist Pekka Kuusisto, who wowed Proms audiences last year with his witty take on Tchaikovsky's Violin Concerto.
Venables's new piece would be structured around eight Bartók miniatures. It would feature two voice overs: one would be Venables as himself, 'finding this video and that being a bit of rabbit hole' into researching Botta's life; the other would be an actor playing Botta. The piece would also include audio of 14-year-old Venables playing Bartók for Botta and the voice of the real Botta from 1998. 'It feels very personal and it feels very much like a tribute to my violin teacher Marilyn and to Botta,' he says. 'That's been quite meaningful.'
Venables conducted extensive research for the piece. He read Botta's memoirs; interviewed his daughter, his granddaughter and his ex-students; and reconnected with Shearn after 19 years. An extraordinary portrait of Botta's life began to emerge. Venables discovered that he was a junior Yugoslavian fencing champion, an eccentric who used to take cold baths in the garden in winter, and that he received a knighthood in Hungary for services to his country after the fall of the Soviet Union. 'It was an insane life,' Venables says. 'It felt like four lifetimes crammed into one.'
Yet Botta's life was also a tragic one. 'He was known as a political agitator in the resistance against the Soviets after the Second World War,' Venables says. 'He was arrested and handed over to the secret police in 1952. They tried to get him to inform and he refused, so knowing that he was a professional violinist they tortured his left hand with a hammer to the extent that he had permanent nerve damage.' Botta's career as a professional violinist was over.
 'There were a certain number of little stories and moments that I wanted to make sure I told, like painting little musical postcards. It's quite text led,' Venables says. Though he makes a habit of including texts in his compositions, this piece will be the first time he's written the text himself rather than working with a collaborator. 'I felt like I didn't really know what I was doing, but I wanted to write it myself because it was such a personal piece,' he says. 'I enjoyed doing it, so it's something I want to do more I think.'
Of course, listeners would have been equally excited to hear Venables treatment of the eight Bartók miniatures as much as his take on Botta's story. Venables's previous response pieces include Klaviertrio im Geiste, a piece for piano trio inspired by Beethoven's Ghost Trio (Piano Trio No. 5, Op.70/1), and a collaborative project in which contemporary composers wrote completions to the unfinished sections of Mozart's Requiem. 'I like having something to push against,' he says. 'Using the Bartók miniatures just felt right. Botta and Bartók are not quite the same generation, but they would both have been living in Budapest at the same time. And also there's the recording of me playing Bartók for Botta.'
A premiere at the Royal Albert Hall is enough to terrify anyone. Yet, with this performance, Botta and Venables parallel stories have come full circle in a piece which looks back on Venables's roots, while also pushing his musical career into new territories.