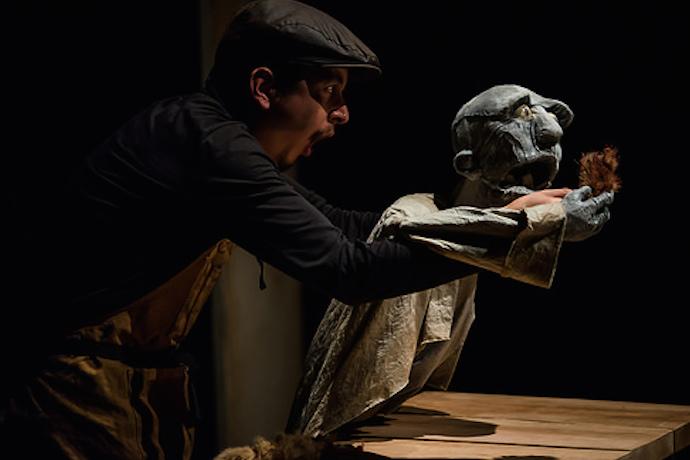 Tom Poster, the pianist and composer, and his theatre-maker brother, Tobi, have written a chamber opera for over twenty puppets. Based on the true story of an 18th-century French revolutionary spy with an insatiable liking for live cats, snakes and the odd amputated limb, The Depraved Appetite of Tarrare the Freak premieres at Tobacco Factory Theatres in Bristol on 25 January, presented by Wattle & Daub Theatre company. Here, Tom Poster discusses the opera.
Could you describe the collaborative process with librettist Tobi Poster?
Tobi and I have written songs together since early childhood – most of our youthful efforts grew out of spontaneous improvisations around the piano involving a lot of repetition, often on fairly surreal and ridiculous subjects. We wanted this show to be a natural extension of the joy and spontaneity we've always found in collaboration, though hopefully with an added layer of emotional maturity and slightly less repetition.
For Tarrare, Tobi wrote most of the words and I wrote most of the music, but there was certainly some overlap in both directions. One session when we were experiencing writers' block, we switched roles – I wrote some slightly nonsensical words, and he pencilled some dots on a sheet of manuscript paper. What emerged wasn't an immediate masterpiece, but with a little refining once we'd swapped back to our more usual roles, it eventually resulted in one of our favourite songs in the show.
Another time, Tobi sang his idea for a tune down the phone at me, in a slightly mumbly bass voice, and I wrote down what I thought he'd sung, only it turned out I'd totally misinterpreted his pitches. Anyway it came out really nicely. So I like to think that nobody really wrote that song – it was a happy accident. But above all, I like to think that throughout our creative lifetimes, we've tried to write songs that speak from the heart and connect with listeners.
You have mentioned influences by Sondheim, Britten and Bernstein in writing the music for this opera. Could you explain that a bit more?
I'm not sure I'd see these great composers as direct influences for the music itself, but they've certainly been a huge general inspiration in writing music-theatre works. My favourite stage works in the world are the great Mozart operas, but I've drawn as much joy and fascination from more recent operas/musicals by Britten, Bernstein, Sondheim and others. All these composers I've mentioned reveal in their music an incredible degree of empathy and compassion towards their characters, many of whom are outsiders like Tarrare. But musically speaking, I like to feel we've found a sound world all of our own to reflect the unique qualities of Tarrare and his unusual co-stars.
Is this the first time you are composing music for the opera?
I wrote two one-act chamber operas, based on Oscar Wilde short stories, when I was between eleven and thirteen years' old. They were performed during my undergraduate days at Cambridge's ADC Theatre. I 'retired' from composing in my early 20s as my pianistic career took off, but have been overjoyed to find myself returning to it in the last few years, having realised it is (just about) possible to fit in alongside a busy performing schedule.
You have previously composed soundtracks for films as well as television series. How would you compare writing music for a chamber opera for puppets to those past experiences?
Writing a chamber opera for puppets brings its own set of challenges, not least the flexibility needed during the rehearsal and devising process, and even in performance. I remember moments during rehearsals when Tobi would call and tell me that a puppet was taking longer than expected to vomit out a snake, and asking whether I could write an extra 20 seconds of music to cover that. In the case of the extended ballet in the second act, the music had to be written to accompany the action, much like film scoring, but I think it's fair to say that most of the rest of the piece is primarily driven by the ebb and flow of the music, as opera should be.
Can you think of any comparable 'monsters' or other characters in opera?
When writing Tarrare's music, I never thought of him as a monster, but as a very vulnerable, human character. He's an outsider, and misunderstood, which puts him in a long line of distinguished characters in opera and musical theatre, from Rigoletto to The Flying Dutchman, Peter Grimes to The Phantom of the Opera. Casting Tarrare as a male soprano gave an even more potent sense of 'otherness' – it should be noted that both singers, Daniel Harlock and Michael Longden, with their extraordinary ranges, directly inspired the vocal writing in our show.
25 – 28 Jan 2017: Tobacco Factory Theatres, Bristol – Tickets
30 Jan – 18 Feb 2017: Wilton's Music Hall, London (Mon-Wed & Fri-Sat) – Tickets
8 & 9 March 2017: The North Wall, Oxford – Tickets
10 March 2017: Michael Tippet Centre – Bath Spa Live, Bath – Tickets