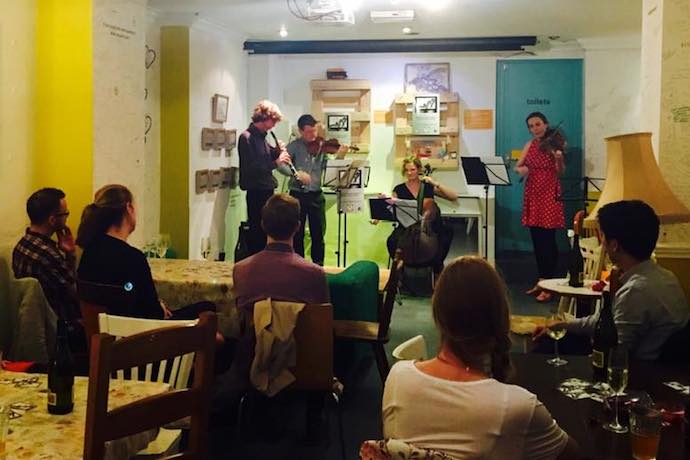 We're living in a fast moving, pop-up society.  Cafes, shops, restaurants spring up in new areas, and then disappear.  This catch-me-if you-can, have-a-little-taster concept has really taken off and now, thanks to violinist Sali-Wyn Ryan, classical music is joining the club.
'Classical PopUps' was launched last July with the idea of surprising people with little miniature events, suitable for any audience.  The idea is that they're 'classy but with a twist' explains Sali-Wyn . 'They should be short, snappy but awesome!'  The 'awesomeness' comes from Sali's twenty years of playing with the top London orchestras, meeting outstanding and enthusiastic players.  It is these colleagues who appear at the pop-ups and it is clear that the player gets as much out of them as the listener.  'Being an orchestral musician is such an amazing job but it's always good to step out of the comfort zone of everyday work,' Ryan explains.  'It's so lovely to make music with your mates again and all the players who have played for me have absolutely loved it.  It's really extraordinary to be able to have musicians from across all the London orchestras as well as fantastic freelancers playing at these events.'
I love the idea of hearing little fragments of a work played by different musicians dotted around the place as you arrive.
 Sali-Wyn first conceived the idea for Classical PopUps after stumbling across the tiniest cinema in Wales, near her childhood home.  Housed in the Gower heritage centre,  'it only seats about 18 people,' she explains, 'but as soon as I went in, I thought how sweet it would be to have a string trio playing in the venue.  I wanted to launch a series putting music on in exactly those sorts of places.'  Later this year, Classical PopUps is aiming to launch its series, 'Oyster Notes' in the newly developed Oyster Wharf in Oystermouth and Sali is clearly proud to present it in her home surroundings.  She also has plans for a concert in the roof garden on top of the new Crossrail station.
But there is more to Classical PopUps' challenge than finding an interesting venue.  'There needs to be a level of accessibility [in the repertoire] but I also want to introduce new music.  One of my player colleagues also composes music for string quartet and loop machine and that could be really exciting,' says Sali-Wyn.  She is keen, too, to work across art forms.  'I like the idea of live art with the concert – perhaps with a children's area where children can see their drawings projected on the walls as they're listening.'  Getting into downstairs bars for pre or post-dinner PopUps might lend itself to a dance collaboration – a bit of tango perhaps.  There is potential, too, to blend music and film.
Sali-Wyn arranges well-known pieces to suit the different performers playing on any given day and is also keen to 'deconstruct':  'I love the idea of hearing little fragments of a work played by different musicians dotted around the place as you arrive,' she says.  'It's just a little taster before you hear the whole work.' 
Fragmented and adventurous, Classical PopUps is working hard to bring top musicians out across venues where you would least expect them, exposing repertoire both old and new, and more importantly, sharing the joy of playing and listening to music.