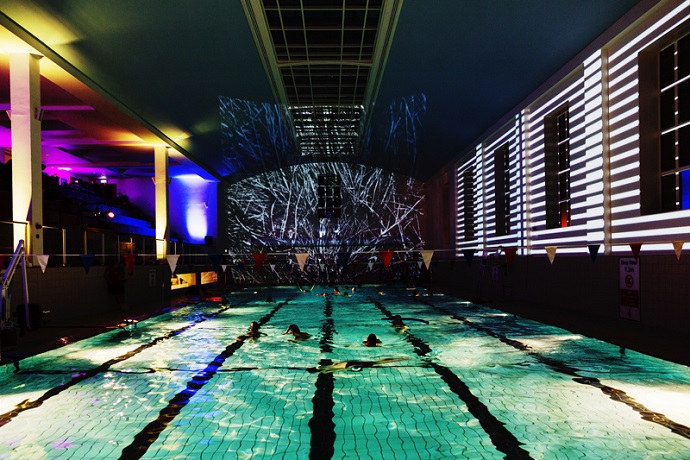 Kentish Town Sports Centre, London | Photo: Joel Cahen
By Lauren Keefer
At the beginning of a wintry March, intrigued fans flocked to Kentish Town Sports Centre's swimming pool for composer Joel Cahen's Wet Sounds, a 40-minute session in which listeners float, dive and swim while entirely encapsulated in sound. The cold sports centre quite literally set the stage: the upper deck overlooking the pool hosted Cahen and his equipment, which consisted of eight channels above, at and below water level. After a cursory introduction to the event, swimmers took their places to experience a variety of musical sensations.
Cahen's multi-channelled masterpiece created three separate experiences, or 'sound spaces', depending on the listener's relation to the water. Above the water, one track was engineered for more conventional listening, while different sounds played simultaneously underwater, separated from the sound waves above. At the water's surface the two sound spaces merged, offering a third musical experience.
Wet Sounds consisted of bass-heavy continuous tracks, creating the sense of a dramatic movie score. Above water, Cahen filled the pool deck with low notes and electronic, static-like sounds complete with live gongs and sporadic melodic chants. Yet underwater the static overtones were erased as swimmers delved deeper into both the pool and music. Beginning with constant, reverberating low notes, Cahen introduced new sounds: higher chords, beats, even a man's voice. And the deeper you went in the water, the clearer the sound. It became a tranquil and surrounding environment, where the music seemed to embody a tangible form that ensured a distinctive experience at each level.
While billed as a musical performance, the location became the true selling point of the night. Listeners were free to relax on floating toys or traverse each sound space at will, diving the pool depths or watching from above chlorine level. The only drawback was lung capacity, as the limited ability to continuously stay underwater made each immersion a short-lived, exciting treat. Side effects of the evening include frozen hair on the walk home, but it was a truly encompassing musical experience. Be sure to look up next year's tour dates.