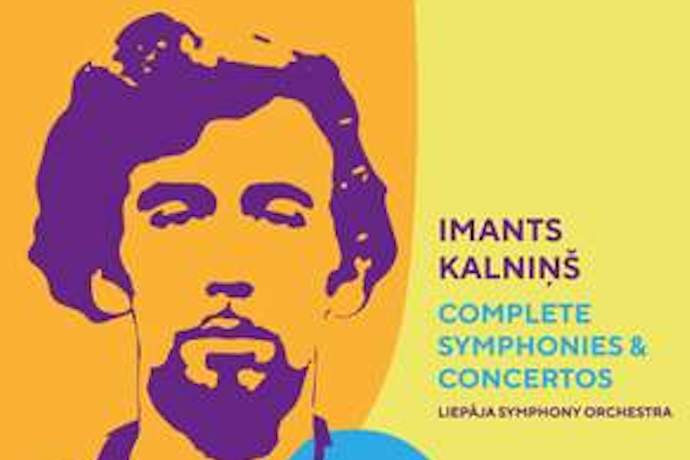 By Rosie Olver
Over the past five decades Imants Kalniņš has become a leading musical figure in Latvia, but elsewhere his work remains relatively unknown. The composer, who turns 80 this year, has written seven symphonies and a variety of film and theatre scores. He has also performed in a popular rock band and even helped to facilitate Latvian independence as a member of the political organisation Tautas Fronte. A selection of his vibrant and varied works have now been compressed into a five- CD collection, showcasing his unique musical language.
Many of Kalniņš's compositions include aspects of both rock music and classical traditions. His Fourth Symphony is considered by some to be the first 'rock symphony' of Eastern Europe. Elements of the genre can be heard in his use of structure and orchestration. For example, throughout the first movement the full orchestra plays repeated, driving rhythms in unison, interspersed with experimental instrumental solos. The tutti passages grow in texture as they build towards climaxes, much as one might find in a typical verse and chorus structure. Kalniņš also manipulates the string sound through buzzing tremolos and fast passage work to create a distortion-like effect.
The second CD features his Fifth Symphony, which, like the fourth, includes a number of improvised-sounding solos, amongst rich orchestral tuttis. The final movement is structurally similar to the Fourth Symphony, but this time the climax points are not intense or dramatic, but instead uplifting and rejoiceful. The influence of more classical, pastoral music is evident, particularly in the melodic lines. Kalniņš's shimmering string sections, and the use of the violin in its highest, sweetest register, creates an explicitly charming atmosphere. This collection of works demonstrates the development of Kalniņš's stylistic qualities over the course of his career.
His highly expressive 1963 Cello Concerto delivers maximum drama through its solemn, searching melodic lines, paired against a richly cinematic string section. Meanwhile his 2015 symphonic miniature, Santa Cruz, takes us to an entirely different soundscape. Aspects of Latvian folksong and simple, balanced phrases make this work effortlessly sweet and song-like. But despite stark contrasts between some works, there are common traits throughout this collection. Kalniņš consistently makes full use of the orchestra's variety of timbres, which is particularly evident in his extensive use of the percussion section. He is also constantly driven by rhythm, often playing with syncopation and repetition in his signature speech-like ostinati phrases. Together these elements create a distinctively engaging energy and a highly original sound. 

Imants Kalniņš's symphonies and concertos has just been released on the SKANI label.