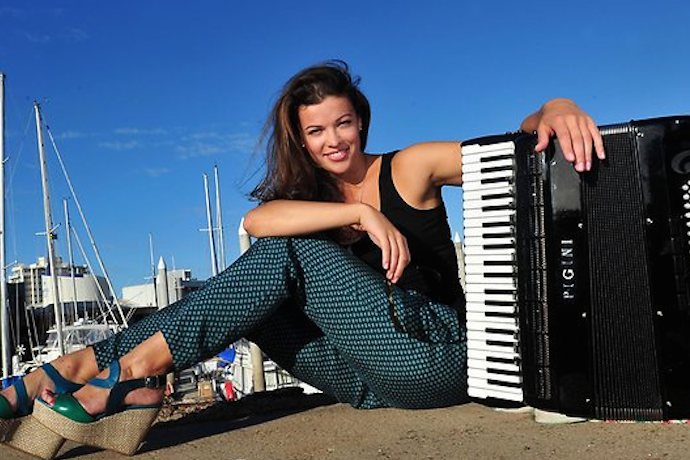 Ksenija Sidorova is a leading accordionist, who is widely celebrated for her eye-watering technique, and has done great things for the Squeezebox's sex appeal. Born in Riga, she took up the instrument on her grandmother's encouragement, then continued her studies in Britain, where she became a prize-winning undergraduate at London's Royal Academy of Music. Now a frequent collaborator with artists ranging from Sting to Nicola Benedetti, she refuses to box herself into a single category. Her debut album for Deutsche Grammophon was a recreation of Carmen for the accordion, incorporating Latin, Asian, European and North American styles. Here, Sam Johnstone interviews the Latvian star.
In the TED talk you gave in Riga in 2014, you drew attention to the fact that the accordion is the butt of many jokes. Do you think the accordion has an image problem?
I think people see it as a very simple instrument. It used to be called a piano for the poor. I decided to do a bit more than make jokes – I take it very seriously! The jokes are still there, of course, but I think that it's slowly getting its well-deserved place on the classical stage.
Your grandmother introduced you to the accordion at the age of eight. Did you learn to play any other instruments?
No that was actually the only one. When I came to music school, the lady who greeted us asked which instrument we would like to play. When I said the accordion she almost dropped dead, because nobody chooses it as a first instrument! Of course, I played the piano as well, but I never really felt organic with it.
What makes the accordion unique?
Well, everything, starting with the fact that you can take it and play it everywhere. That was my grandmother's main argument: she said that she would be the most popular person at any party – which is not true!  I also love the fact that you can play with any other instrument or singer. The borderlines between classical music and other genres vanish – I can go and play something with Sting [with whom Sidorova played at Bryn Terfel's 50th birthday celebrations at the Royal Albert Hall], and then back to the Belcea String Quartet. A couple of months ago, I worked with American composer Austin Wintory on the soundtrack for a new game for the Playstation 4. I had no idea that game music was such a big thing!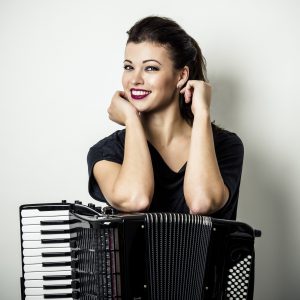 What have you learnt from playing with musicians from different worlds – from Sting on one hand to symphony orchestras on the other?
There is a saying that the concert hall is your second professor, and for me, the people I work with are my mentors. I learn something new during rehearsals each time. A conductor does not care how you achieve what he wants you to achieve, but just says, 'I would like you to sound like that'. If I work with a singer, we talk about phrasing and I try to apply it to my instrument. It's the same with a violinist or cellist: for me, the bellows in the accordion act as a bow, so I have to almost get into their skin and understand how to produce the sound on my instrument.
Growing up in Latvia, who were your musical idols? Were musicians such as Gidon Kremer important to you?
I'm actually recording my next album with the Kremerata Baltica [the chamber orchestra founded by Kremer consisting of young musicians from the Baltic countries], and I'm hoping that he will agree to play one track with me. I know Gidon by now, but we've never played together, so I think it's about time. For some reason, Latvia has produced so many wonderful musicians. It's such a small country, but music is our main export; its played at a very high level, and the audiences are very well educated. When I go to play there, I get a little shake in my knees, because they really know what to listen out for!
You're also committed to performing new works. Do you seek out new repertoire for your instrument?
Yes, for sure. Sometimes it happens that I'm don't even look for them. Nowadays the world is so online; sometimes I'm influenced by YouTubers. I heard an arrangement that I loved by Arten Myzhnyk, an accordionist from Ukraine, so I wrote to his YouTube channel, and he asked whether he could compose a new piece for me! For my next big premiere with the Goldmund Quartet in Dortmund, we are playing a piece by a Russian composer Sergey Akhunov that I met through a good friend of mine. I heard a piece of his at a concert and we got in touch on Facebook. He was saying that he was so fascinated by the accordion, so I said, why not write a piece!'
Carmen, your debut release on Deutsche Grammophon, is such a multicultural mix of styles. Where did the idea for the record come from?
 I can't even place it properly; its somewhere between borders. We recorded the album in three different countries and five cities. we took Carmen on a world trip, to the Balkans and Turkey. Since early childhood I was fascinated with Spanish music. When I was about 10 or 11, my teacher would tell me to look at this little souvenir plate I had, with a Spanish woman with castanets and Juan next to her in a passionate pose, and put this passion into my music.
Did you try and get into Carmen's mindset the way that an opera singer would?
Only in so far as getting to know her free spirit. I think that everybody has a little bit of Carmen in them, no matter whether one is a man or a woman. We all stand by and defend something; for her it was free love. 

Ksenija Sidorova performs at the Risor Chamber Music Festival in Norway on June 28. kammermusikkfest.no/ Carmen is out now on Deutsche Grammophon.