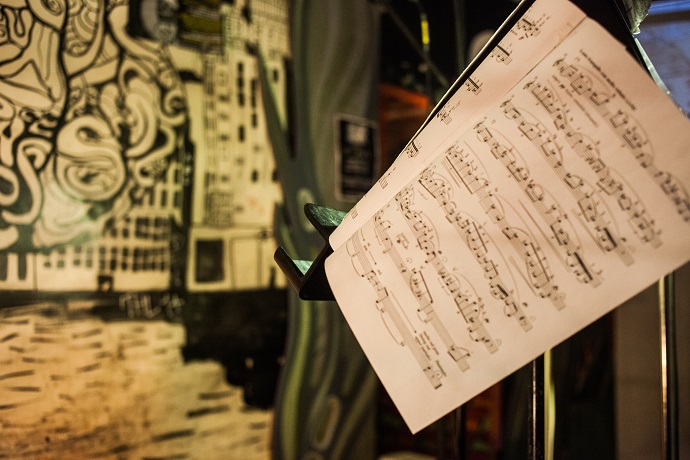 The Victoria, Dalston
By Kate Romano
There's an unassuming piece of paper taped to a huge bookcase in the bar area of The Victoria which says 'Nonclassical. Doors open 8pm.' It's the only sign that something is going to happen in this dimly lit Dalston pub. But the wall of books conceals a secret soundproof door, and it is through this that the mostly younger audience, with beers and burgers, enter the convivial Nonclassical world.
You've got to admire the vision and tenacity of Gabriel Prokofiev, founder of the Nonclassical brand in 2003. He may be the grandson of Sergei Prokofiev, but his passion for genre-bending, boundary-blurring music, and his belief that it makes for a great night out, has rightly earned him a name as a unique compositional voice and an ingenious producer. Nonclassical 'club nights' have been bringing new music to people years before most of us had acknowledged the limitations of concert halls.
In the room behind the bookcase, you can stand, sit on the beer-sticky floor or move around a bit. But despite the informality, everyone is seriously here for the music. The moment Benedict Taylor and his viola took to the stage (no band, no sheet music, no technology) there was a pronounced sense of anticipation. Wrapped lovingly around his viola, he delivered a set of unrelenting improvised music. It was impressive not only for its virtuosity and variety, but for Taylor's sheer ability to retain both his audience's keen attention and a musical structure for half an hour.
Next up was Julián Elvira, a charming Spanish flautist who brought his self-designed super flute (the 'Pronomos') and – oh joy – a subcontrabass flute: fifteen feet of gleaming vertical vaguely flute-shaped pipework. And what music. With the assistance of live and pre-recorded electronics, simpler folk-type material suddenly shifted gear and sent us hurtling into a thrilling wall of sound created by his rapid tonguing and percussive breath-notes.
Occasionally I found myself yearning for a few more unadulterated moments of that gorgeous earthy viola tone and that extraordinary subcontrabass flute sonority from these superb musicians. It's a small gripe. It was an overwhelmingly heartening experience to see audiences so appreciative of new music. Nonclassical deserves its longevity. It is a beautifully no-fuss concept, as simple and unassuming as the piece of paper taped to the bookcase.