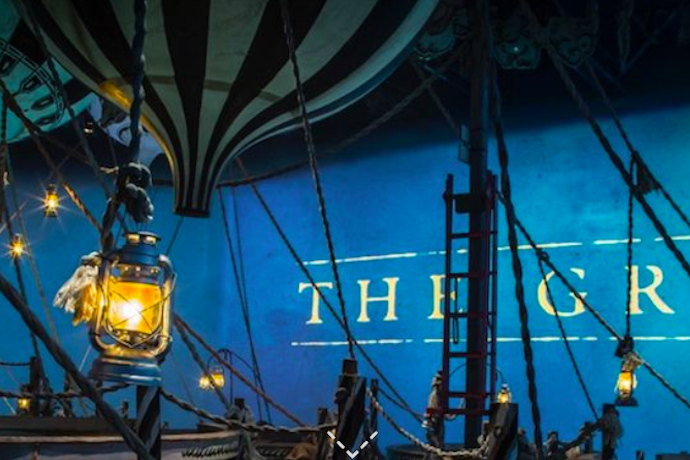 Somewhere in London
By Hannah Nepil
Nowadays every Tom, Dick and Harry has a pop-up event to offer. You know the sort of thing: an out-of-tune cello recital in an underground bunker; a one-man show involving nudity and bubble wrap in the belly of a disused railway station. The sort of thing where you're left hanging until the last minute to find out exactly where you're going and what time you're meant to be there. On paper it can look thrilling – a way of channelling the escapism of playing a video game through the experience of theatre-going. Too often, though, it serves to make underwhelming art more sellable.
So it's easy to be sceptical about Gingerline: the company that puts on immersive theatrical dining experiences in secret locations dotted along the London Overground network. Audiences book their tickets, then wait until 4pm on the day of the performance, to find out where they're being sent. Then, once it's all over, they're sworn to secrecy. It sounds like a gimmick. But in the case of this 9 -year-old company, it usually isn't.
In fact, it's dining on a psychedelic new level: a theatrical journey, which happens to include Gourmet-style food. Past menus have embraced everything from 'ginger beer beef' to 'smouldering hay' and 'sea bed pickle', while the aesthetic, realised in impressive detail by founders Suz Montfort and Kerry Adamson, channels the surrealism of Roald Dahl or Lewis Carroll – be that in a Siberian circus, a Submarine Mess Hall or a woodland setting, as in in 2012, when guests were led through mushroom caves, traded secrets with Rumpelstiltskin and were serenaded by the moon – all as part of a multi-course banquet.
As for their latest production? Unfortunately, I can't share specifics, but I can say that The Grand Expedition fails to match up to Gingerline's past standard. The menu was as inventive as ever, the designs were clever if less varied than usual, the atmosphere as charmingly upbeat as ever. But whereas on previous occasions the team has made some attempt at narrative, here there was next to nothing. Which left the swarms of actors at a loss for ways to entertain us. They resorted to pantomimic posturing, and noise-making for its own sake which, with an audience as uninhibited as this one, can go a long way. But between all the 'Hoo's' and the 'Haaa's', there was a lot of sitting around, and zero in the way of theatrical tension: a disappointing product from a company that usually does a fine job of standing out from the crowd.