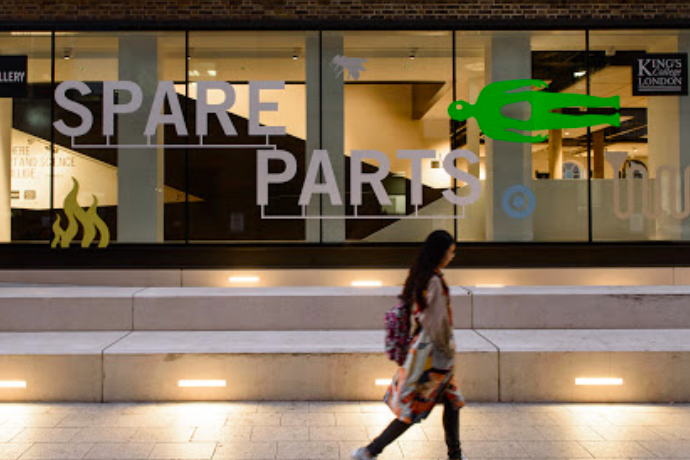 Science Gallery, London
By Jonny Venvell
How would you find out what it feels like to have a prosthetic limb? If you worked for a traditional scientific institution you might run an experiment interviewing users of prosthetics. Or perhaps you're more interested in the subjective experience of having a synthetic body part and you commission a series of artworks based on the topic. 
If you're part of the team at London's new Science Gallery, the answer is both. 
Set up in September 2018, this new space nestled in the side of King's College London aims to challenge the traditional separation of artistic and scientific disciplines in museum spaces.
In contrast to its architectural neighbours, the imposing Shard and Victorian colonnades of Guy's Hospital, the gallery has clearly been built with accessibility in mind, boasting free entry and a large open plan cafe and shop. 
The Gallery's first exhibition of 2019, SPARE PARTS, focused on the science of organ transplantation and tissue regeneration. 
Spread across the gallery's three floors were an intriguing collection of scientific and artist responses to the subject: an experimental film exploring what it means to receive a donated kidney, a lecture on using prothetic arm as an art medium, and a wall filled with plaster casts of adult human hearts.
While each exhibit was definitely interesting in it's own right, at times it seemed the exhibition was lacking in cohesion and structure. Though the open plan layout of the exhibition made it easy to dip in and out, some form of narrative or suggested journey through the exhibition would have helped to drive home it's message.
On this particular evening, we were also treated to a new musical work – 'Antiphon', a collaboration between composer Charlotte Harding and artist Tabatha Andrews. Performed by Harding on percussion and the powerful voice of soprano Victoria Oruwari in the resonant gallery stairwell, it drew upon the call and response techniques of ancient Greek music to explore the deep connection between the way we producing sound and the way we hear it. 
Though it was certainly one of the highlights of the evening, given the thought which had gone into it's composition and the length of other events taking place that evening (including a 30mins discussion of the piece) it's short 10 minute duration left me wanting more. 
That said, overall this was an excellent exhibition providing a unique interdisciplinary approach to curation in a city dominated by institutions which prefer to keep science and art separate. I'd highly recommend visiting when you next get the chance!