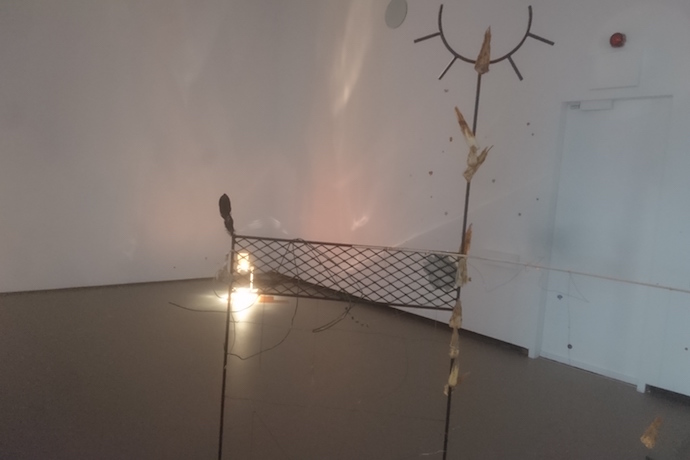 Towner Gallery, Eastbourne
By Alice Baker 
Despite its emotional resonance, the sense of smell is rarely evoked by art exhibitions. On walking around South African artist Dineo Seshee Bopape's installation Sedibeng, it comes with the rain at Eastbourne's Towner Gallery, a faint but distinct scent of herbs and spices can be detected. This adds to the mysterious, mystical atmosphere of the installation, which explores themes of cosmology, fertility and African traditions.
The piece comprises a series of metal sculptures placed in alignment around a darkened room, a few points of light provided by lamps placed in three corners of the room. Several of the sculptures represent archetypal figures, such as 'Mama, papa, nii' (Mother, father, warrior), while others represent natural phenomena, such as 'Sirius Star' and 'Sediba' (Oasis). The scent is provided by fabric bags of sage, ginger, chamomile and angelica hung on several of the sculptures. These also tie in with the theme of fertility, these plants traditionally being used to treat disorders of the womb. Other spices dotted about the room add to the multisensory experience, with star anise placed on the bases of the maps, their silhouettes projected onto the walls and ceiling of the room, linking with the theme of cosmology.
A working knowledge of South African mythology is probably needed to get the full benefit of the piece. Not being an expert on these matters, I likely didn't get as much as I could have out of some of the sculptures such as 'Moruapula' (S/he who tames the rain). However, the absence of a commentary prescriptively telling you what you think about each piece is refreshing, and there is enough symbolism of universal significance for everyone to get something out of it. 

Sedibeng, it comes with the rain runs until September 8th at the Towner Gallery, Eastbourne