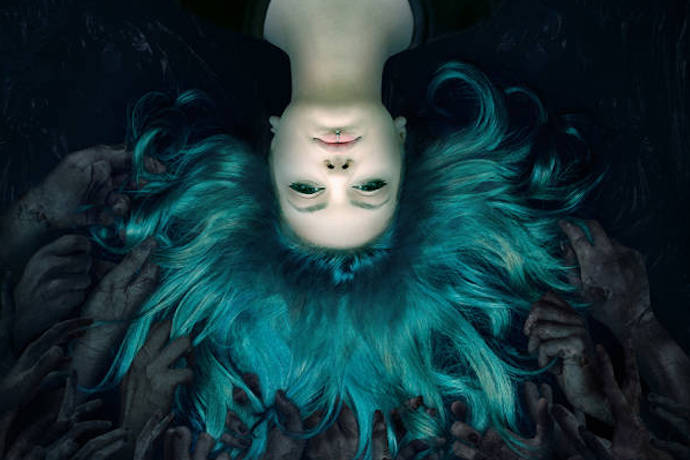 Linbury Theatre, Royal Opera House
'Bad things happen when you shag a giant' observes Hel, reflecting on her father's choice of partner for procreation. Indeed, Hel's parents Loki (the 'trickster' god) and Angrboda (the giantess) produced three problematic offspring: a snake, a wolf and Hel who is half-human, half-corpse.
Unwanted Children is one of the many themes weaving through The Monstrous Child, the dark new opera based on a Norse Myth from composer Gavin Higgins and writer Francesca Simon. Unrequited Love, Birth, Death, Jealousy, Betrayal are all there too, expressed through Larger-Than-Life characters. As Simon notes, even when she was writing the original book, she 'knew it could be an opera'.
Simon's reworking of her book into a libretto is darkly comic and yomps along at a wonderfully energetic pace. Higgins's score is a rich, sonic exploration of just 10 instruments, projected admirably by the Aurora Orchestra and conductor Mark Austin.  Higgins does rotting music well: bass and contrabass clarinet, trombone, double bass and bass drum curdle the vocal lines nicely. His music is often at its finest at the most harrowing and poignant moments: the rejection of the children, Hel's doomed love for Baldr. But the work is truly a showcase for Hel, sung by the superb Marta Fontanals-Simmons, who narrates the story from her mound of decaying detritus. She's utterly engaging from the first to last note, heading up an all-round splendid cast.
Visually, it's a very slick and sophisticated production from director Timothy Sheader and designer Paul Wills. Huge dripping ice blocks hang from heavy chains and animated video drenches three walls with an inky, gritty, primal landscape. Hel's name is carved endlessly onto the walls of the cave, great branch-like wounds appear as she desperately stabs at her rotting mound. Only the puppetry jars somewhat: Hel as a child is portrayed as a small widely-grinning puppet head atop the body of an actor. Her overlong stick-like arms protrude awkwardly from where her stomach would be. It's hard to reconcile the comic appearance of the Hel-child with the tortuous conditions of her life and the epic, shadowy, cinematic vibe of the projections.    
But it's in the second half that the work really comes of age. Gone are the puppets, the laughs. The opera acquires a maturity, poignancy and elegiac quality that stays long in the memory and ear. There is room to dream, to think, to reflect and wonder. Perhaps this is what the Royal Opera House had in mind when they said that The Monstrous Child was aimed at a teenage audience? 

The Monstrous Child runs at the Linbury Theatre until March 3rd. Tickets.