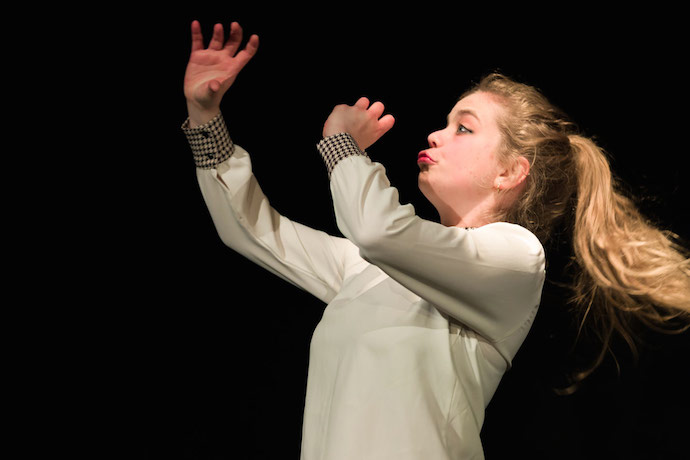 By Sam Taylor
At 18 and against her teachers' advice, soprano Héloïse Werner deferred her medicine degree to cross the Channel and study Music at Cambridge. 'It is really rare in France for people to study abroad', she recalls, 'People thought I was mad…'
This decisive and daring choice to leave her native France epitomises Werner's burgeoning career. After graduating from Cambridge, Werner co-founded contemporary ensemble The Hermes Experiment with three fellow music students. The quartet's lineup of double bass, harp, clarinet and voice is novel: 'No one ever wrote for this combination of instruments so our idea was to commission lots of new music that would build our repertoire as we evolve and grow'.
Alongside performing original compositions, the quartet also explores improvisation. 'We discovered how to use our instruments by improvising', Werner explains, 'What we all love is that you can do anything: it is so liberating that there is no preconception of what the music should sound like – nothing is wrong.'
This feeling of liberation contrasts with Werner's sense of constraint when discussing traditional classical-singing roles. 'I love opera – don't get me wrong – but it is a very specific style… you have to deliver an aria in a certain way: it has to be beautiful, it has to be legato', she explains.
It's very difficult to express grief with words, but you can, to some extent, with sounds.
Werner does not conform to traditional expectations of a soprano: 'I don't like the idea of having to tick boxes. I find there is something quite impersonal about that'. Instead she takes inspiration from the vocal experimentalism of Lore Lixenberg as well as the cross-arts dynamism of Zoë Martlew – two women Werner now works with and describes as 'heroes'.
'As a singer I'm really interested in using the voice theatrically. I don't want there to be a massive difference between when I'm speaking and singing,' Werner says of performing in Scenes from the End – an abstract and fragmentary one-woman opera, exploring personal and universal grief. Werner's avant-garde approach is spontaneous and emotionally attuned rather than consciously thought-through. 'It's funny because people ask me about my techniques, but it's more what comes out when you're trying to convey emotion. It's very difficult to express grief with words, but you can, to some extent, with sounds.'
Jonathan Woolgar's Scenes from the End is one of many cross-arts collaborations Werner has taken on. In 2015, The Hermes Experiment presented a 'musical exhibition' with photographer Thurstan Redding, and more recently adapted Shakespeare's The Winter's Tale, which they hope to give a proper run in London next year.
Remarkably, Werner also finds time to sing and play in folk band, The Coach House, and a capella group, SHARDS. 'I really like working with people who are not classically trained, who play in bands. I really like that world – it's more chilled out and less judgmental than the classical industry,' she says before speculating that industry professionals perpetuate the classical world's conservatism, not its audience.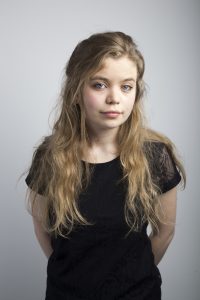 In particular she relishes the strong focus on rhythm that she feels can be loosely treated in classical ensembles: 'For me rhythm is the most important thing. I have always been able to feel it but I know some people just don't really get it.' She elaborates, 'What I love with Hermes is that everyone is so rhythmically anchored that we never really have ensemble issues. We all feel the music in the same way. There is no weak link.'
Despite her criticism of the classical industry, Werner expresses a reverence for tradition. Supported by her academic father and flautist mother, Werner benefited from a stimulating classical musical education. At just four years old she began learning the cello, and by twelve she joined France's highly competitive National Radio Children's Choir. During these formative years Werner developed an adoration for Bach and Mozart: 'Bach was a really important part of my upbringing. I still sing his music and it's just the best thing ever – Bach is a constant in my life. I also love Mozart operas: I could watch them everyday and never get bored […] I love Mozart's music so much that I would never want to touch it.'
Contemporary minimalism invigorates Werner too, especially Meredith Monk's extended vocal techniques and the repetitive rhythmic cells of Steve Reich, whose work she performed with The Multi-Story Orchestra at Bold Tendencies car park, a short walk from her Peckham home.
Werner is keen to create music with a stronger rhythmic focus, and plans to record atmospheric cello and synth tracks with David Julyan, and an electro-folk-fusion EP with harpist Fraya Thomsen next year. She is also currently working on a multimedia project with writer Octavia Bright and filmmaker Jessie Rodger. 'It's kind of my story – although I don't want it to be about me', she confesses. Drawing on her own bilingual experience, the project aims to deconstruct the relationship between 'memory and identity; language and performance'.
In person Héloïse Werner is open, bright and ebullient. Her prolific creative output reveals a remarkably industrious and versatile musician, one lacking pretension and motivated purely by a love of merging different art-forms. 

The Hermes Experiment performs at the Colourscape Festival on Clapham Common on September 16th