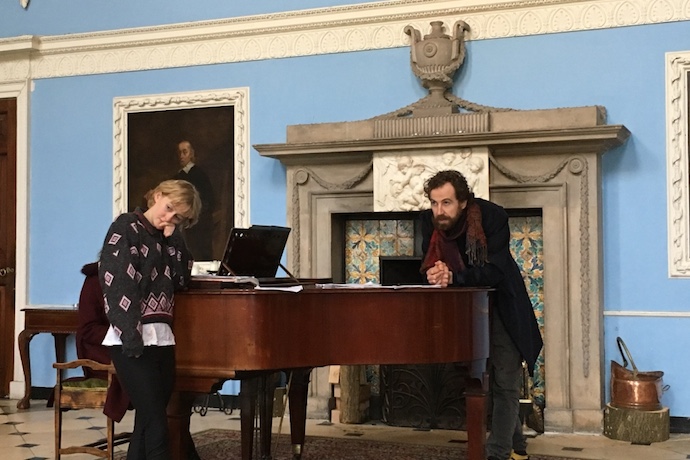 National Portrait Gallery, London
By Kate Romano
Concert Theatre, a production company founded in 2012 by pianist and doctoral student An-Ting Chang, really tries hard to do what it says on the tin. Concert and Theatre; what happens when you put them together? Can concert music become a language analogous to spoken drama? Can the telling of a story refresh our appreciation of classical music?
The Tenant, an adaption of Anne Bronte's 1848 passionate and groundbreaking novel, was the framework in which to test this theory. So was a selection of solo piano music by Brahms, Scriabin and Mozart. Pitting such cultural giants against one another was a bold and risky move. Undaunted, Chang released her sparring partners into the heavyweight 19th century grandeur of Room 20 of the National Portrait Gallery. Yet this clever setting provided some familiar 'period piece' reassurance. Beneath the watchful glare of twenty figures of Social Reform, was a grand piano, a ten-foot empty picture frame, two standard lamps, a couple of chairs and an artist's desk. It all felt rather 'National Trust' in a comforting, British sort of way. 
Chang's production was imaginatively and resourcefully acted by Emily Smith May, as the plucky Helen and Martin Bonger, switching convincingly from gentle Gilbert Markham to the abusive and alcoholic Arthur Huntingdon. Pianist Diana Brekalo was a flexible 'third voice' on stage. Throughout, Brekalo performed fragments of musical masterworks that had been positioned and selected to 'comment' on the unfolding drama. This was the hinterland that Concert Theatre aimed to explore. At its best, The Tenant offered insights into something rather special. It would be easy to miss the care and hard work that has gone into this production because the mechanics integrating the two genres were so subtle. A speech rhythm and spoken phrase length echoed a musical one. Occasional hand gestures mirrored melodic shapes and tied it together seamlessly that it was truly possible to experience music and theatre together as a new hybrid. Yet at times, often at the most shocking or tender narrative moments, the piano seemed a little intrusive and dangerously close to melodrama, even prompting Bonger to comment directly to Brekalo, 'it IS rather dramatic, isn't it?'
Had I seen a concert or a piece of theatre or both? In The Tenant, theatre seemed to have the upper hand but the production revealed tantalizing  – and very promising  – glimpses as to what a true hybrid genre could look and sound like. 

To read our interview with founder of Concert Theatre An-Ting Chang, click here
To see an excerpt of a Concert Theatre production from 2012, click below