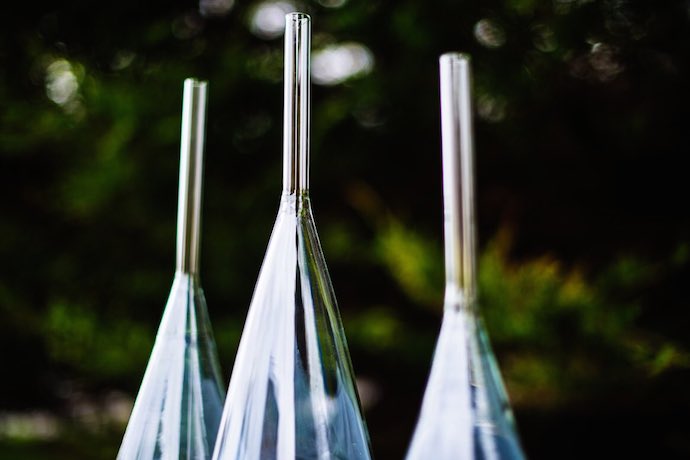 Mono, Glasgow
By Sara Baron-Goodman
The inclusive contemporary music ensemble Sonic Bothy kicked off their new season earlier this month at Mono, showcasing their new custom-made glass instruments, raw talent, and a lot of passion.
While their ability to fluidly navigate through genres – drawing inspiration from Glasgow's musical scene with echos of chamber, experimental, dance, improvisation, and classical composition – is impressive by any standards, the most outstanding part about Sonic Bothy is how much soul they put into their playing. Their group is made up of Glasgow-based musicians Allan Wright, Nichola Scrutton, and Creative Director Claire Docherty, alongside additional-support needs musicians Adam Green, Andrew Robertson, and Ellen Philip.
The first work started strongly, transfixing the audience with low rumblings of percussions, accentuated by vocal humming and hissing, creating a haunting soundscape that conjured up images of tribal warfare. Their second piece was more sombre in tone, focusing on low, long notes on the percussions and violin, heightened by reverberating, guttural vocals that seemed to come pouring out.
The third and fourth works incorporated the beautiful glass instruments, inspired by improvised playing on coke bottles, and made expressly for these musicians by Edinburgh artist Carrie Fertig. They looked giant decanters of varying sizes, and, like some sort of chemistry experiment gone right, allowed crystal-clear sound to pass through.  Elsewhere, we heard the sounds of ripping tape, water swooshing in a plastic bottle, and a paper bag being crumpled. The result was a dynamic celebration of the musicality in everyday objects.
The final song, heavy on the drums and conjuring up images of a winter storm, built triumphantly to a crescendo, ending just as strongly and evocatively as the event had started.