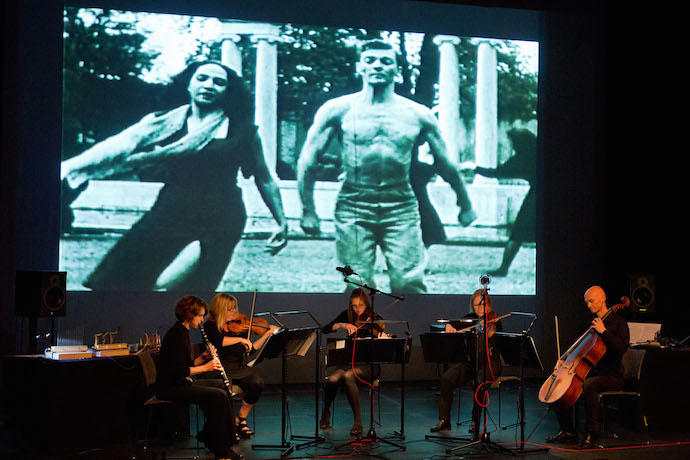 OVADA, Oxford
By Ellen Peirson-Hagger
'What happens when technology becomes obsolete?' reads the subtitle of Ritual in Transfigured Time. For the Goldfield Ensemble and Langham Research Centre, groups specialising in contemporary classical and electronic music respectively, the answer seems to be a chamber concert in an empty warehouse.
The location was not this concert's only striking feature. Unfolding in Oxford's OVADA warehouse, the programme contrasted the old and new, the aural and the visual, the acoustic and electronic, opening with Poème électronique by Edgard Varèse. This shuffling piece of engineering – sounds, rather than notes – accompanied by excerpts of film on the exposed brick wall was designed to make the most of spacial effects. It didn't quite live up to its 1958 premiere, when it was played out of 350 speakers. Still, it suited OVADA's acoustics: with speakers set at all angles around the audience, there was no knowing where the next sound would come from.
Sound and picture continued to interwine in Kathy Hinde's new work, Singularity. A projection of white ink suspended in cubes of gelatine was accompanied by a string quartet and the sounds of metal tines salvaged from toy pianos. Each element was fascinating in its own right, but, when put together, didn't quite mesh. In fact, it was only during the final piece that I was unable to separate music and film. Ritual in Transfigured Time consists of a 1946 film by Maya Deren set to a 2016 score by Arlene Sierra. What begins as a fly-on-the-wall video showing the day-to-day events of an anonymous female protagonist ends as thrashing choreography, the music following every development of the film, almost as though it had been composed as a soundtrack. The result was an example of how much more powerful sound and visuals can be in their own right, when united in intent.