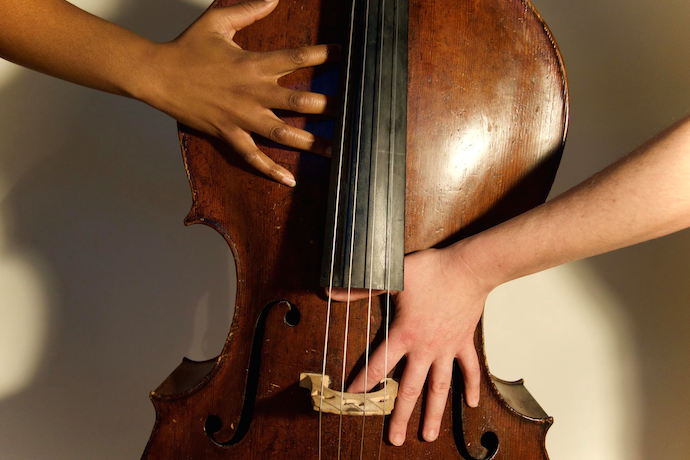 Hexagon Theatre, Midland Arts Centre, Birmingham
By Richard Whitehouse
A leading UK comedian recently observed that the Hillsborough tragedy was the one no-go area for humourists. Another might well be sexual assault: for long an issue out of bounds in an artistic context, it has become so socially relevant that many creative figures have felt bound to tackle it over recent years. Among them is composer Chloe Knibbs, whose music-theatre work The Girl Behind the Glass was staged last week at mac Birmingham's Hexagon Theatre.
The presentation was as stark as it was effective, with two singers occupying centre-stage and a cellist at the rear of stage-left. Abigail Kelly took the role of the main protagonist, trying to come to terms with a violent liaison which takes her through those successive stages of denial, acceptance, self-loathing and tentative reappraisal that comprise most of the piece's 45 minutes. Her eloquent soprano was tellingly complemented by the sombre mezzo of Suzie Purkis, whose role was variously that of friend, sceptic, advocate and that 'inner voice', which condemns while also empathizing in a torturous process of reassessment. Appearing as both musical and abstracted presence, Megan Kirwin's cello perceptively underpinned the emotional eddying of this drama; her one spoken interjection a brief yet decisive moment in its course.
In what is a difficult subject, that could easily descend into mere stereotyping, Knibbs ensures that the situations represented on stage – separated by brief keyboard samples – are believable and realistic while continually engaging the audience's active response. Adeptly interweaving speech and song, her vocal writing is tensile, expressive and ideally judged in its contrasting timbres. Moving between plangent melodic lines and undulating harmonies, the cello part is no less idiomatic or arresting; its performer a still though never inactive figure who provides continuity and, at the close, a counter-melody to the song which plays out wistfully offstage.
This was described as a 'work in progress', and it will be interesting to see how it evolves on future presentations. Hopefully the Midland Arts Centre, which faces a 70% cut in its funding next month, will not have to withdraw support for such thought provoking and necessary projects.