1. Soundwave Architecture, USA
Musicians and visual artists explore their relationship with different spaces around San Francisco, including the gardens of the De Young Museum, the Contemporary Jewish Museum and the Gray Area Foundation for the Arts.
Various venues around San Francisco, July 1–September 3
2. Enchanted Nature Revisited, China
The first solo show in China by the Italian-French artist Michele Ciacciofera includes a recent video sound installation alongside large-scale paintings, drawings, hand-sculpted objects, ceramics and terracottas themed around Ciacciofera's affection for the natural world.
CAFA Art Museum, Beijing, July 26–September 11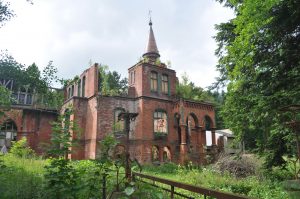 3. Open Air, Poland
Part of the Sanatorium of Sound festival, this sound-and-visual installation by Olivia Block is held in various rooms in a dilapidated sanatorium previously used for treating tuberculosis patients. It explores the movement of air in various forms and is inspired by the history of the sanatoria and treatments of tuberculosis.
Sokolowsko sanatorium, Sokolowsko, Poland, August 1–14
sanatoriumdzwieku.pl/en/festival/idea
4. Johannes Kreidler: The more unmusical, the better, Australia
A series of conceptual pieces for solo performer and video by Berlin-based composer Johannes Kreidler, who works in the mode of 'expanded composition'. His compositions, while musical, are not about music, but rather the systems, economies and regimes that dictate the place of music in our world.
Australian Centre for Contemporary Art, Southbank Victoria, August 9
5. Kilkenny Arts Festival, Ireland
Highlights of this multi-arts festival include a concert of works by Mozart for clockwork organ, glass organ and other unusual instruments; a reading from Seamus Heaney's Aeneid alongside a live soundscape by composer and cellist Neil Martin; a piano recital from Utsav Lal fusing reels, ragas and jazz; and free performances from leading international musicians in some of Kilkenny's most picturesque outdoor spaces.
Venues around Kilkenny, August 5-14
6. Nico and the Navigators, Germany
Nico and the Navigators, otherwise known as 'full-body poets', examine absurd interactions and the tragically comedic heroes of everyday life though body language, music, sounds, singing and text fragments.
Radialsystem V, Berlin, August 12-14
7. Il Ritorno, Australia
This show, by the Australian acrobatics troupe CIRCA, combines stripped-back acrobatics with Baroque opera in a new spin on the theme of European displacement resulting from World War II . The opera is Claudio Monteverdi's Il Ritorno D'Ulisse in Patria, interlaced with folk song and new compositions.
Arts Centre Melbourne, August 20
8. Sound Walks along Nissan, Sweden
As part of Sound @ Nissan, a project that uses sound as a tool in the urban development process of Tullkammarkajen in Halmstad, Sweden, audiences are invited on a sound walk along Nissan – the river that runs through Halmstad.
River Nissan, Halmstad, August 21, 28
9. Montreal DJQ Summer 2016, Canada
Eastern Bloc, a collective that specialises in new media and interdisciplinary art, presents a weekly series exploring the work of sound artists and DJs in a Montreal back alley.
Eastern Bloc, Montreal, July 7–August 25
10. The Burren Summer Festival of Memorised Music, Ireland
Stories from the Old World, an Irish Literature themed event featuring composers Vyvienne Long, Dave Flynn and Anne-Marie O'Farrell, forms part of this Irish multi-arts festival. Another highlight is 'Composing a New Island', a day of 21st-century Irish compositions across the genres of classical, traditional and jazz.
Venues around The Burren, County Clare, Ireland, August 25-28