Matthew Sharp, the baritone, cellist, actor and director known for his virtuosic musical multitasking, takes us on a whirlwind tour of his most memorable projects.
I've always liked the straightforward idea that an artist is someone who goes beyond the frontier and comes back with stories of the unknown – humanises the undiscovered country, builds empathy with the Other, and holds your hand in the darkness.
I've spent a good amount of time on innumerable ledges beyond the edge. I've also warmed my cockles at the cosy hearth of the canon, tradition, provenance and the well-trodden path. But the artist goes forward, back, up and down simultaneously. In order for the art form to fly, ledge and hearth need to coexist, to feed on each other, to succeed because of each other. And yes, there's plenty of good 'coexisting' work going on in the world where ancient and modern, sacred and profane are performed as if in continuum.
But on the whole, I don't see this well intentioned work connecting anymore viscerally with the 90% of people who don't do 'classical' music. And I'm really interested in connecting with that 90%.
So, with compass, crampons and map of uncharted regions in hand, I'd like to list three works from beyond the frontier made for people back in the known world.
1) Errollyn Wallen's Cello Concerto
I've known Errollyn for many years, commissioned Dervish for cello and piano, sung in one of her fourteen operas, The Silent Twins, at the Almeida and written songs with her and fifty teenagers in the valleys of south Wales for performance at Welsh National Opera. It's fair to say we know each other's music. And yet this concerto, both at its premiere and subsequently, surpassed any foreseeable reaction from the audience that I might have had. It seems to speak so immediately, directly, generously and deeply to its audience, and continues to do so. In it Errollyn has gone beyond the frontier. The cello writing is formidable, extreme, unlike anything I've ever played, but what's special and important is that Errollyn came back to the world and people with her discoveries. So what's formidable and extreme sounds lyrical and embracing; what's sophisticated and innovative, magic and searching. The music hasn't been left out in the cold to fend for itself. This is ledge and hearth in potent balance.
To find out more, follow the link below:
And here are two extracts from the concerto, the first from the fabulous/fiendish opening monologue:
https://soundcloud.com/mattdjsharp/errollyn-wallen-cello-concerto-extract1
The second from a more earthy/ethereal section shortly after the orchestra has joined the Olympian cello line:
https://soundcloud.com/mattdjsharp/errollyn-wallen-cello-concerto-extract2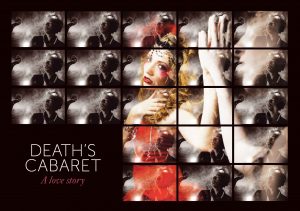 2) Death's Cabaret – A Love Story
This is a cabaret concerto by composer Stephen Deazley and writer Martin Riley. It grew out of a simple realisation and a compelling desire to connect more deeply with more people. Having enticed members of the fabled and generally absent 90% who don't do 'classical' music to my performances of, say, Elgar, I would invariably ask, 'so, what do you think/feel/get?' And invariably the answer would be something along the lines of, 'I don't know enough to have an opinion … but I liked it when you spoke to the audience and put the piece in context.' The 'not knowing enough' always strikes me as (a) untrue – these discerning folk had opinions about the latest film/book/exhibition they'd experienced but weren't directors/writers/artists; and (b) an indictment of the opaque etiquette and fearfulness of our beloved art form.
So, I set out to make a powerful piece – a piece to make you laugh and cry – especially for this audience. And I took their very human advice, putting direct address and a dramatic context into the very DNA of the piece. And the world's first Cabaret Concerto was born, though, of course, as soon as it had been born we realised that, in fact, the form was ancient. It's bardic.
3) Tommy Foggo – Superhero
This one-man interactive musical epic comes from a similar desire to transcend protectionism. I wanted to make a heart-breaking and hilarious piece that works equally well in cultural meccas and school halls, that walks with kings but doesn't lose the common touch and for which no education or initiation was required, just humanity and curiosity.
Based on a true story, it's about a boy who was left at the bus stop by his mum, who never came back. Tommy never finds his mum, but he does find a talking cello called Destino.
Matthew Sharp performs Tommy Foggo Superhero in York on March 12th. Venue and tickets details: 'Projects' page at matthewsharp.net
Then, on March 17th, he performs Shostakovich's Cello Concerto with the Northern Chamber Orchestra in Stockport. Tickets: eventbrite.co.uk/e/shostakovich-cello-concerto-with-matthew-sharp-tickets-31070003216
He is also recording a solo album for Edition Peters Sound.
You can find out more about Death's Cabaret and Tommy Foggo on the 'Projects' page at matthewsharp.net