By Sam Pryce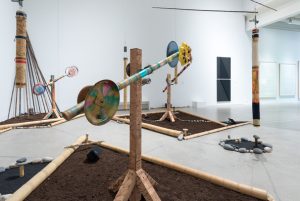 1. The Freedom Principle: Experiments in Art and Music, USA
This large-scale group exhibition examines the legacy of avant-garde jazz and experimental music, with a particular focus on the African-American arts scene on the South Side of Chicago and its ongoing influence on contemporary culture.  The artworks on display span the last five decades, and there are several free concerts in the gallery space.
Philadelphia Institute of Contemporary Art, University of Pennsylvania, throughout February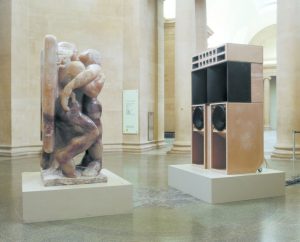 2. Mark Leckey: Containers and their Drivers, USA
UK artist Mark Leckey works across film, sculpture and sound to construct his experimental installations. In his Sound System sculptures, stacks of noise-blasting audio speakers unite sound and figurative art. His breakthrough film Fiorucci Made Me Hardcore uses sampled footage in an exploration of dance subcultures in British nightclubs from the 1970s to the 1990s. This is the first US retrospective exhibition of Leckey's work, taking place in New York.
MoMA PS1, New York, throughout February
3. Silences: An Anthology of Silent Music, France
If you thought John Cage was the only one to explore the musical potential of pure silence, think again. This exhibition brings together graphic scores, videos and sound installations (one taking place in the dark) that all explore the bonds between silence and musical creation. It also includes a live performance of works by Michael Pisaro, Antoine Beuger and Jürg Frey.
Albi Mediatheque Pierre Amalric, Albi, until February 4
4. CTM 2017: Fear Anger Love, Germany
A digital art and sound festival of contemporary electronic and experimental music taking place in several venues across Berlin. The programme includes concerts experimenting with sound technology, audiovisuals and hybrid instruments. 
Various venues around Berlin, until February 5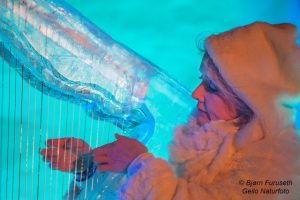 5. Ice Music Festival, Norway
Taking place in an igloo, to coincide with the first full moon of the year, the Ice Music Festival showcases music for instruments made out of pure frozen water sourced from lakes and glaciers. Terje Isungset, the only professional Ice musician in the world, plays ice percussion, and the master sculptor Bill Covitz unveils a new ice instrument.
Geilo, February 9-12
6. Before I Say Yes.
The Berg Orchestra, which specialises in contemporary music, teams up with the Spitfire Company for a staged project combining music and physical theatre, taking place at Prague's Ponec Theatre.
Ponec Theatre, Prague, February 11-12
7. The Father of Opera and his Jewish Coeval, USA
Profeti della Quinta, a male vocal quintet founded in Galilee, performs the work of two great Italian composers. Monteverdi 'invented' opera, and is still hugely famous. Salomone Rossi, Monteverdi's contemporary, revolutionized Jewish concert music with compositions for Hebrew prayers. Here we listen to their works side by side.
The Grace Rainey Rogers Auditorium, Metropolitan Museum of Art, New York, February 23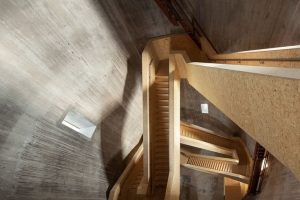 8. Sonic Acts, The Netherlands
This four-day festival focuses on the relationship between music and other disciplines, bringing together artists, thinkers and scientists from around the world. Contained under the umbrella theme 'The Noise of Being', highlights include Spring Bloom in the Marginal Ice Zone, a  work revealing the sounds of underwater life in the Caribbean, Greenland, Norway and Iceland; and Vertical Studies in Sint Jansklooster, a collaborative work taking participants ona  journey to a 46 meter high abandoned water tower in Sint Jansklooster. 
Various venues across Amsterdam, February 23-26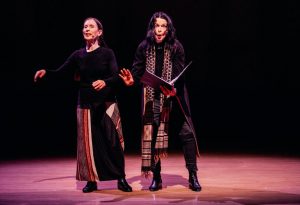 9. Meredith Monk and Anne Waldman, USA
Meredith Monk is a composer known for her extraordinary vocal technique, and the founder of The House, a company dedicated to an interdisciplinary approach to performance. Anne Waldman is a prolific poet, playwright, activist, and the author of more than 40 collections of poetry and poetics. Here, in an evening of three parts, Waldman begins with a performative reading from her 'Entanglement Variations,' with visuals of paintings by Pat Steir and sound composition by Ambrose Bye. Meredith Monk then performs selections of her work with members of her Vocal Ensemble. The evening culminates in a collaborative duet between Monk and Waldman.
Institute of Contemporary Art, Boston, February 24-25
10. Turgut Erçetin, Germany
As part of a series examining political upheavals in Turkey, and its impact on conditions for artists, the composer and scientist Turgut Ercetin presents his work. Other event in the series include a lecture by art historian Bernd Nicolai on German exiles who fled to Turkey for refuge.
Akademie der Künste, Berlin, February 26