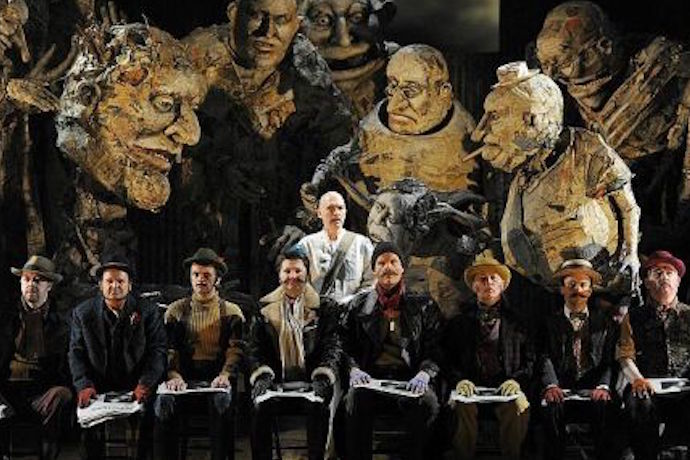 London Coliseum
Now on its third revival, Phelim McDermott's staggering production of Philip Glass's Satyagraha, an opera focusing on Gandhi's years in South Africa, continues to beguile and mystify. The versatile, metamorphosing set design by Julian Crouch and the unbelievable papier-mâché puppets show theatre company Improbable at their most inventive, taking advantage of the abstract nature of the opera with dazzlingly imaginative set-pieces and ensemble work.
With its non-linear structure and Sanskrit libretto, Satyagraha is not interested in giving a straightforward narrative account of the life of Mahatma Gandhi. Rather, it seeks to capture the essence of Gandhi's peaceful ideology in a series of abstractions and meditations, much in the same vein as Glass's other operas in his 'Portrait Trilogy', which also comprises Einstein on the Beach and Akhnaten, about men who changed the world.
In the form of a triptych, the opera focuses on three important icons in Gandhi's life, each representing a different embodiment of satyagraha (the term for his concept of nonviolent resistance to injustice) — the Russian novelist Tolstoy, a great inspiration to Gandhi; the Indian poet Tagore, Gandhi's friend and communicator; and the Civil Rights activist Martin Luther King, who was inspired by Gandhi's teachings. They each sustain a silent omnipresence on stage, as though watching over Gandhi as he fights his own private spiritual battles.
In an achingly beautiful final aria, Gandhi performs what feels like an unanswered prayer, repeating the same ascending melody, but receiving no reply. He is dwarfed by the presence of Martin Luther King behind him, who stands on a tall platform with his back to us, giving an impassioned speech as the sky gradually clears and turns blue. As he walks slowly downstage, Toby Spence's Gandhi, occasionally turning back to look at King, seems to come to a quiet realisation of the future, of a change in politics and protest, of his work's successful completion. Spence's subtle and ethereal rendering of the character makes this closing scene at once poignant and melancholic.
Though Glass's music may divide listeners, one cannot deny the artistry and creativity invested into the production by Improbable and the cast and crew at the English National Opera. Coupled with the expertise of conductor Karen Kamensek, it all makes for a deeply spiritual, transcendental and unforgettable experience. 

Satyagraha is at the London Coliseum for five more performances — 10, 14, 16, 22 and 27 February 2018. 500 tickets for £20 or less are available for each performance. eno.org